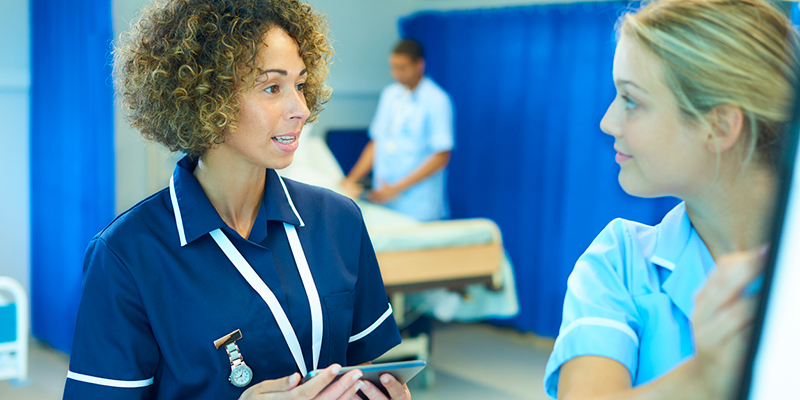 The pay deal, announced last month, is wide ranging and affects more than one million NHS staff. Such a complex deal is always likely to generate questions, so I wanted to address a number of the most talked about issues.
Productivity targets
In October, the Chancellor of the Exchequer said that funding for any pay rise would depend on productivity targets in the NHS. The RCN and other NHS unions successfully pushed back against this – there are no targets in the deal.
As I explained in November, productivity improvements cannot be achieved by the NHS tightening its belt further and expecting more from staff currently pushed to their limits.
Instead, the new deal addresses productivity by improving recruitment and retention – meaning fewer vacancies in the service, and preventing the loss of experienced staff. By increasing starting salaries and guaranteeing a pay rise of at least 6.5% for hundreds of thousands of NHS employees, we start to improve productivity.
Appraisals
As you may have read, progress through your pay band will be dependent on a successful appraisal.
Although this has been reported as a new requirement, progression through the increments has been linked to the annual appraisal ever since the introduction of Agenda for Change in 2004. Even before that increments could be withheld if someone received an unsatisfactory report.
Our records show that progression is very rarely prevented – almost never. There is no reason to believe that the new system will feel any different for the vast majority of our members. The proposals are not financed on the basis of stopping or reducing the number of increments.
Sickness Pay
The pay deal does not affect your sickness entitlement. A new sickness policy was not part of our pay agreement, but it does contain a commitment to talks about managing sickness absence in the future.
Trade unions and employers will work together through the NHS Staff Council and Social Partnership to review the current agreement about how sickness absence is identified, reported and managed,, but again, this will not alter your current entitlements as set out in the service handbook.
The aim will be to improve attendance through positive management of sickness absence, an assessment of the principal factors affecting absence, and a focus on staff health and wellbeing. We'll update members as these discussions as they take place.
Have your say
RCN members employed by the NHS in England can vote on the pay deal from 23 April. Check your inbox, social media and the RCN website for updates on how to take part.