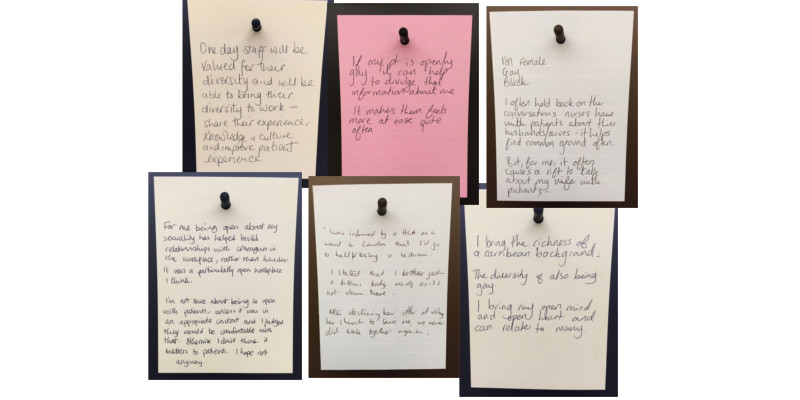 As part of our exhibition on diversity in nursing we created a feedback wall, and invited visitors to leave their notes and comments. Below are a few responses.

See the exhibition in London until Thursday 15 March 2018. It will then launch at RCN Scotland in Edinburgh on Thursday 26 April. Keep an eye on our events page for our next series exploring pandemics and the history of infection control nursing.


"I bring the richness of a Caribbean background. The diversity of also being gay. I bring my open mind and open heart and can relate to many."
"One day staff will be valued for their diversity and will be able to bring their diversity to work – share their experience, knowledge of culture and improve patient experience."
"If my patient is openly gay it can help to divulge that information about me. It makes them feel more at ease quite often."
"I was informed by a HCA on a ward in London that I'd go to hell for being a lesbian. I stated that I better get a bikini body ready as it's hot down there. After declining her offer of using her church to save me, we never did work together again."
"I'm Female, Gay, Black. I often hold back on the conversations nurses have with patients about their husbands/wives – it helps find common ground often. But, for me, it often causes a rift to talk about my life with patients."
"For me being open about my sexuality has helped build relationships with colleagues in the workplace, rather than hinder. It was a particularly open workplace I think. I'm not sure about being so open with patients, unless it was in an appropriate context and I judged they would be comfortable with that. Otherwise I don't think it matters to patients. I hope not anyway."