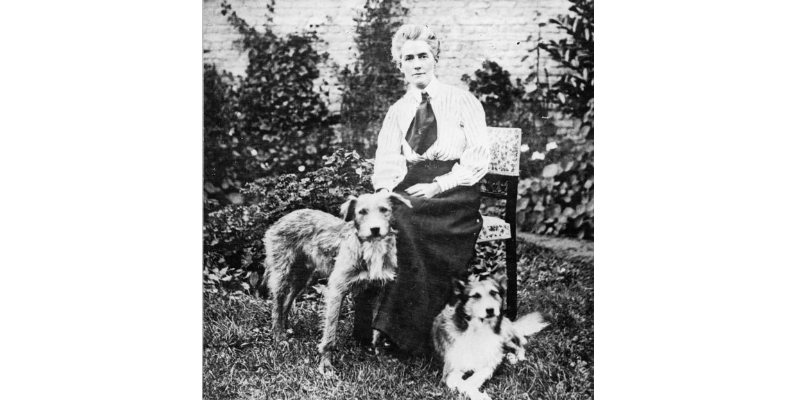 As 2018 comes to an end it also brings to a close the centenary commemorations for the First World War. At the RCN we have been remembering the contribution made by nurses during the War. Recently I explored the books we hold about Edith Cavell. We have many titles including biographies however I was most intrigued to find a title from 1934 called: 'Nurse Cavell, dog lover'.
Edith Cavell was a British nurse who is remembered for saving the lives of soldiers from both sides during the First World War. She helped 200 Allied soldiers escape from German occupied Belgium, for which she was arrested. She was found guilty of treason and shot by firing squad in Brussels on 12th October 1915.
This book is a facsimile version of a notebook written Edith Cavell concerning the care and treatment of dogs and was found in her room after her death. It is edited with a biographical introduction by Rowland Johns. Cavell's notes include ideas on kennels, food, water, exercise and grooming, as well as the watchdog. Drawings by Cavell accompany the sections relating to kennels, including a kennel made from a barrel. --The book brings to life the human side of Cavell and includes the following glimpse, from the introduction, into her affection for her dog Jack:
'During her imprisonment she frequently talked of her dog Jack, and in that dim cellar St Gilles, just before the last act in the drama that shocked the world, she thought and wrote not only of the people whom she loved, but of 'dear old Jack', who survived his heroic mistress for many years.' p.10.
It appears that Edith Cavell had two dogs, Don and Jack. Don is believed to have passed away before the war, but Jack outlived Cavell by many years. He is described as being of no breed, the size of a small shepherd's dog with grey hair on his back, a lighter coloured chest and fawn legs. He was preserved after his death and is now on display at the Florence Nightingale Museum.
This book is part of our permanent collection and may be viewed by appointment at the RCN Library and Heritage Centre:
Rowland J (1934) Nurse Cavell, dog lover, London: Methuen & Co.
Image of Edith Cavell with her dogs: © IWM (Q 32930)