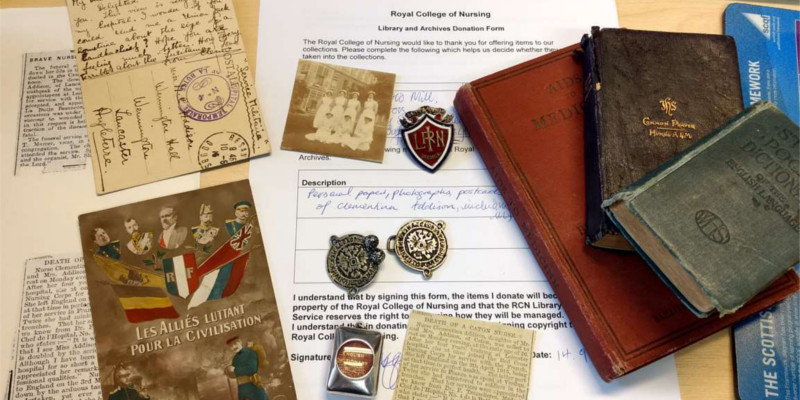 The great-niece of a world war one nurse came in to the Scottish HQ building yesterday with a bulging carrier bag of papers she was interested in donating to the RCN Archive.

The carrier bag turned out to be a real treasure trove of material, including dozens of picture postcards sent by Clementina Addison to her sister Christie during her time nursing in France during World War One. There were also some pocket nursing texts and prayer books, a nursing badge from her training at Leicester Royal Infirmary, photographs, a silver locket containing a miniature English dictionary, newspaper clipping and a Russian silver belt buckle.

Clementina was born in Lancaster in 1890, the daughter of a cotton cop dyer. Her family moved to Lancashire sometime in the 1910s, and Clementina decided to train as a nurse when she finished school. She trained at Leicester Royal Infirmary, and immediately after she qualified she decided to go to France with the French Flag Nursing Corps. This was quite unusual at the time, as most nurses would have chosen to nurse with the British Red Cross. However, Clementina was fluent in French and as there was a great shortage of nurses in France at the time she decided to go there.

Clementina sent postcards to her sister Christie every few days, most of them depicting local landmarks near where she was based, but also paintings she liked and illustrations of the troops. A few of the postcards have photographs of Addison and the wounded soldiers she was treating. Clementina was clearly pressed for time and wouldn't have been permitted to say much in correspondence about what was happening around her in the trenches. Her messages to her sister were usually brief, occasionally mentioning acquaintances of theirs who had been wounded or killed in action. One of them mention the sinking of the Lusitania in May 1915. Another intriguingly mentions a German officer who said he had witnessed a host of angels on the side of the Allies on the battlefield – clearly a reference to the Angel of Mons legend, which was supposed to have occurred a few months previously.

Clementina demonstrated great courage and resilience during her time with the French Flag Corps, treating French soldiers with infectious diseases.

Sadly, she contracted an unspecified disease around January 1916 and was sent home to Britain where she died. The final postcards are sent during her journey in February 1916, reassuring her sister that although she was ill she was feeling better. She died in July, having returned home to Caton, near Lancaster.

Clementina was awarded the Medaille d'Honneur Des Epidemies for her work with French soldiers with infectious diseases, and the Medaille de la Reconnaissance Francaise.
Clementina's family are rightly proud of their ancestor, and because of this they want to be sure she is remembered and her surviving records and possessions are looked after for posterity, which is why they came to us. We will ensure that Clementina is not forgotten.