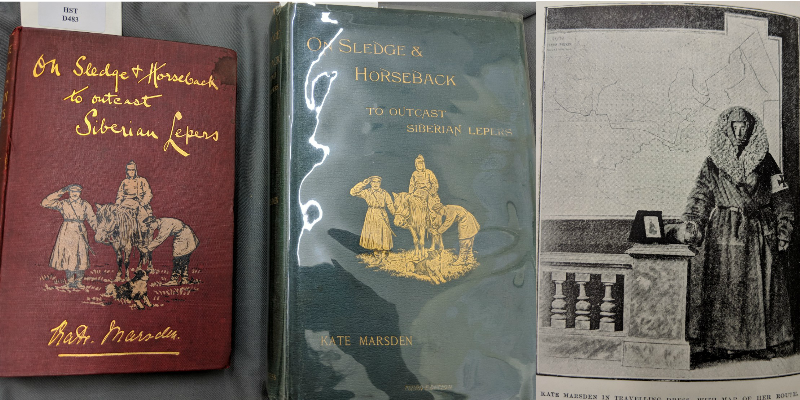 Recently our Library team each chose a book from our special collection, an item that caught their attention or that was interesting to them, and presented it in a team meeting. We've decided to share these treasures, and their stories, with you in a series of blogs. Nadia chose On sledge and horseback to the outcast Siberian Lepers by Kate Marsden. The book shows Marsden's courage and spirit, and how she helped lepers that had been outcast from society. Unfortunately Marsden's legacy as a nurse was tarnished by a terrible scandal surrounding her sexuality.

Marsden started nurse training in 1876 in Tottenham, London. In 1877 she volunteered to join a mission to Bulgaria to tend to Russian casualties of the Russo-Turkish War. Here she witnessed her first case of leprosy, and in On sledge and horseback described the effect on her as follows:
'the emotions aroused by the sight of the two poor, mutilated and helpless Bulgarians cannot be fully described. Before this time the conviction had taken hold upon me that my mission in life was to minister to those who received the smallest attention and care of all God's creatures…the lepers in the far-off uncivilised regions of the world – who cared for them…surely these, of all afflicted people, ought to become the object of my mission.'
After various nursing positions, including five years as matron of the Wellington Hospital in New Zealand, in April 1890 Marsden travelled to St Petersburg, Russia, to receive an award from the Russian Red Cross for her work during the Russo-Turkish war. Drawn to the need for leprosy care in Russia, Marsden met the Russian Empress Maria Feodorovna, gaining support and assistance for a proposed journey to Siberia.
Marsden's trek to Siberia
In February 1891, Marsden set out on an 11,000 mile journey from Moscow to Siberia. Starting in winter, she travelled by train, sledge, river barge and horseback. On the final 2,000 mile section from Yakutsk to Vilyuysk, Marsden rode a horse through swampy forests, dodging bears and clouds of mosquitos on her quest to help those in need. Marsden starts the description of this section of her journey with: 'on the official maps there is a road traced leading from Yakutsk to Viluisk, but in reality there is no such road…you will have to pass through unnamed marshes, and never find any such road.'
Marsden arrived back in Moscow in December 1891, after nearly 11 months of travelling, and immediately started raising money in Russia and England to establish a hospital for lepers in Siberia.
Marsden was granted the Silver Order of the Royal Association of British Nurses, and was one of the first women elected as a fellow of the Royal Geographical Society in Britain. On sledge and horseback to the outcast Siberian Lepers, with photographs and illustrations of Marsden's journey, was published in 1893, but then came the scandal.
The scandal
What is interesting about Marsden's story is that she was a contemporary of Florence Nightingale, but unfortunately her achievements in nursing were destroyed by the scandal surrounding her sexuality. The scandal occurred at the same time as the infamous trial of Oscar Wilde.
Marsden had met Ellen Hewett while sailing from New Zealand to England in 1889. They had become close, and Hewett had supported Marsden financially in various ways. When Marsden ended the relationship suddenly, Hewett turned on Marsden, and accused her of only having been with her for her money. When Hewett returned to New Zealand in late 1890, she publicly accused Marsden of scamming her financially and mistreating her.
By 1892 these accusations had made their way to Isabel Hapgood, an American writer with experience of travelling in Russia, who joined in the campaign against Marsden. Hapgood gave Marsden's book a devastating review. Shortly after, a committee was set up in St Petersburg to investigate allegations of financial mismanagement surrounding Marsden's work. --The committee was shown evidence of Marsden's relationships with women, provided by Hapgood, and Marsden acknowledged the "gravest of the charges against her". Reverend Alexander Francis, a member of the investigation committee, published a letter in The Times, London, on 16 August 1894 which destroyed Marsden's reputation. Francis later revealed that he had known of Marsden's lesbianism for a year but had dismissed it until her recent confession.
Marsden began a libel action against Francis, but this was delayed and eventually dismissed in November 1895. It is worth noting that at this time female homosexual activity was not illegal, so Marsden would never have gone to prison over her sexuality. However, the scandal was enough to destroy Marsden's reputation, her career, and her legacy.
The aftermath
The two editions of On sledge and horseback in our collection demonstrate the changing attitude to Marsden. The 1893 copy, 3rd edition, is a large volume and contains facsimile letters of endorsement from Queen Victorian and the Russian Empress Maria Feodorovna. By 1895, the 12th revised edition was published as a smaller volume, only containing one facsimile letter from Queen Victoria, showing the fact that so many prominent figures had withdrawn their support for Marsden.
Despite everything, the St Francis Leprosy Guild was founded in 1895, and the funds raised by Marsden were used to open a leper hospital in Sosnovka near Vilyuysk in 1897. Interestingly, in 1916 Marsden received the rare distinction of honorary life fellowship of the Royal Geographical Society.
Marsden faded from public life; she died in poverty in 1931 and is buried in Hillingdon Cemetery. Her dedication to relieving the suffering of lepers is still remembered in Siberia, and in 2014 a memorial to her was unveiled in Sosnovka.
We'll be featuring photos from On sledge and horseback in our Instagram feed this week.
You can view items from our special and historical collections by booking an invigilated session, or by requesting a treasures tour.