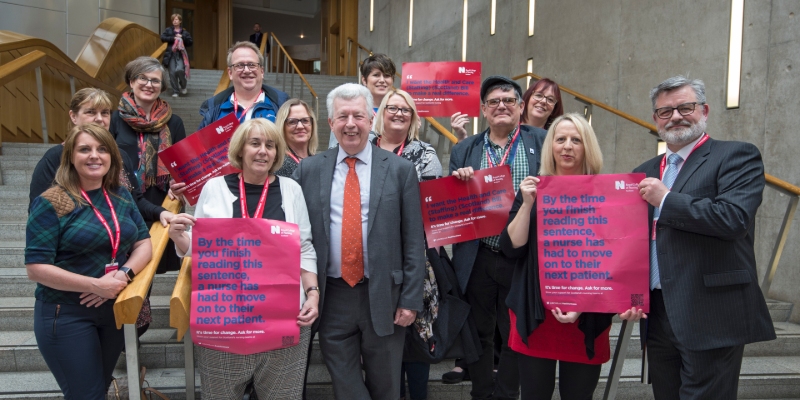 Our campaigning and lobbying work for safe and effective nurse staffing has been centre stage this week. On Tuesday, I gave evidence to the Health and Social Care Select Committee on proposals to changes to NHS legislation.
I made clear that the NHS Long Term Plan in England couldn't succeed without the workforce in place to deliver it. We need investment and accountability in law for making sure there are the right numbers of nurses with the right skills to deliver safe patient care.
This follows campaigning actions taken by our members and supporters to make the case that workforce was missing from the NHS England and NHS Improvement consultation proposals before it closed last week.

In Scotland, members have been busy lobbying MSPs on the final amendments to the Health and Care (Staffing) (Scotland) Bill ahead of the final debate and vote held on Thursday.
Many of the amendments reflected the RCN's position and were a direct result of our influencing campaign and our member stories told directly to parliamentarians.
It's a huge milestone that's been almost three years in the making and when the Bill becomes an Act, RCN members and staff will be able to take pride in this achievement, that was only possible by working in collaboration.
Looking ahead, many you are gearing up to join me and other RCN staff at Congress in a couple of weeks. I'm looking forward to meeting many of you and being part of this important event.
I am also looking forward to having the opportunity to talk to you about the work ahead in my address to you in my new role as Chief Executive and General Secretary as I was recently permanently appointed to the role.
I am very proud to be leading this organisation - boosting your collective voice and working alongside you, our members, to continue to develop our fantastic profession.
Many of the biggest issues facing nursing will be debated in Liverpool and the outcome of those debates will set the RCN's agenda for the year ahead. I can't wait to be there and to hear more from you to allow me to continue to best represent your views.
For those who can't be with us in person, we'll be live streaming the debates and keynote speakers on our website and I know that those watching, from members at home or work to those with an interest in nursing issues, will be left in no doubt of the collective power and value of our profession.
We can achieve so much when we - the RCN and our members - work together to lobby for change.
I am so proud that RCN members have been actively making the case for safe and effective nurse staffing legislation with decision makers in England and Scotland and continue to monitor the implementation of the legislation in Wales.
Those in positions of power will find it hard to ignore our calls for legislation in England now that Scotland have followed in the footsteps of our colleagues in Wales.

So we have a busy few months ahead! I can't wait to see what else we will achieve as we continue our important campaigning work together.


Find out more
Get involved in our Safe Staffing campaigns