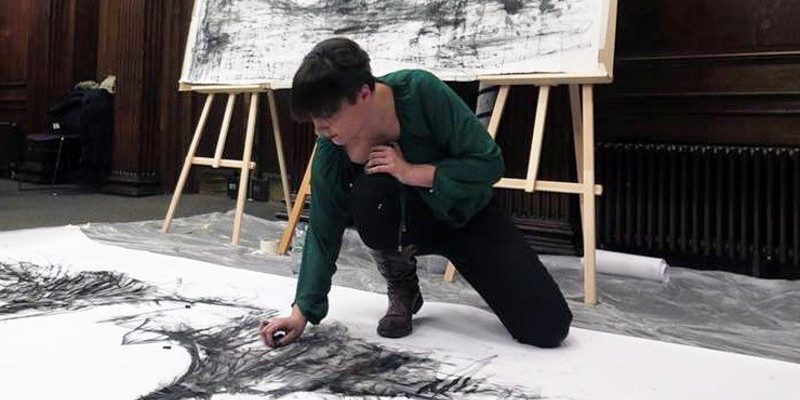 Artist Liz Atkin joined us as guest speaker to help launch our very own Dr Sarah Chaney's new book "Psyche on the skin". Liz had created Sarah's book cover and at the book launch provided us with a performance piece in charcoal! This is a blog Liz wrote about her experiences.
I've lived with Compulsive Skin Picking, otherwise known as Dermatillomania, since I was a young child. The disorder is characterised by the repetitive picking of the skin to an extent where damage is caused. I'd pick my face, my back, my arms, and my feet. The behaviour could be conscious and unconscious so sometimes I'd feel a real urge to pick, at other times my hands would be busy picking without me realising it. The guilt, embarrassment and shame would be enormous. Many mistake the condition as a 'bad habit' that needs to be suppressed, but the disorder made me adapt my behaviour in many ways. I'd cover up my body with clothing, I was late for work or I'd cancel seeing friends or family because of the picking, I'd frequently conceal scabs on my face with make-up. It affected my work, my relationships, my clothes, and my sleep. Terrible feelings of isolation and stress would occur, which in turn triggered yet more urges to pick, a never ending cycle. Very often I'd wake up to blood on my sheets, evidence of the skin picking activity that had gone on while I was asleep. It was very hard to control the urges. There were endless occasions where I'd end up poised at the mirror, either getting changed to go to work or while getting ready to go to bed, and 4 or 5 hours would pass while I zoned out picking.
About twelve years ago I Googled 'skin picking' and finally found information on the disorder. By then I was struggling with the severity of my condition, and the constant urge to pick. This coincided with me studying dance at university, my lecturer advised us all to record ourselves and how our bodies moved. After recording myself for a few hours I watched it back - I lasted only fractions of a second before the picking started. It was a life-changing moment for me. Through video, photography and art I slowly began to transform my skin picking into something visual. I started to make artwork that expressed the feelings of this disorder and I started to get better! It's hard to explain Skin Picking to others, but for the last decade, art has been my greatest tool for recovery and helped me take back control of my body.
One of the images I created, Blue (2013) was used on the front of Dr Sarah Chaney's new book Psyche on the Skin: A History of Self Harm. It felt like an important moment, since this book is challenging a lot of misconceptions around self-harm. Skin Picking is no longer considered to be such, and these days is aligned with impulse control disorders under the Obsessive Compulsive Disorder (OCD) Spectrum as picking is often repetitive, ritualistic and tension reducing. It can also be linked to Body Dysmorphic Disorder (BDD) as some sufferers will feel that picking at acne or what they see as skin abnormalities (such as moles or freckles) will make them look more 'normal'. The picking can create pronounced abnormalities that lead to a vicious cycle. It is a condition which affects as many as 1 in 20 people, however it remains relatively unknown in relation to other skin conditions. The physical and mental impact of compulsive skin picking can truly affect a person's quality of life.
In the last 18 months I have begun working in charcoal. I've found incredible relief channelling the energy of the disorder into drawings. The repetitive scratching of charcoal against paper has become a new kind of mark making. My #CompulsiveCharcoal 'graffiti' - 1 minute drawings produced daily while commuting, have acted as a kind of therapy on the go, keeping my hands busy and replacing the urge to pick wherever I am. I have given away close to 10,000 #CompulsiveCharcoal pieces in the last year, including on a recent trip to Singapore.
The large scale Performance Drawings I created at the Psyche of the Skin book launch, are a radical re-thinking of Skin Picking – transposing the urge and energy of the disorder into artworks, they're very physical, visceral and cathartic. My fingers are poised in the position of Skin Picking, but holding charcoal and drawing. This is a new way to re-imagine the condition that is always with me. This system helps me a great deal. Finding something textural to occupy my hands and slow my mind down has been an amazing tool to help control and reduce my Skin Picking urges.
Although there is currently no cure for this condition, many find medication, Habit Reversal Therapy and Cognitive Behavioural Therapy can be effective treatments. Support is crucial, especially when experiencing feelings of helplessness and isolation, I didn't find support until later on in life. The TLC Foundation in USA are leaders specialising in supporting those with compulsive skin picking and hair pulling disorders.
For images and contact details, please see here.