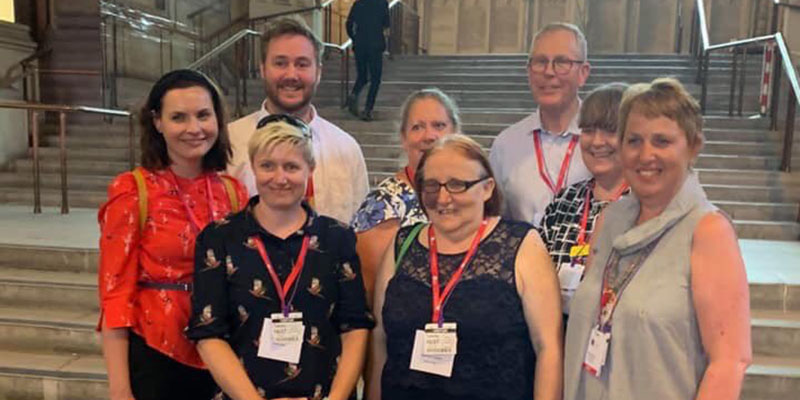 Well, since Congress much has been happening, both in our region and throughout the RCN, with the staffing for safe and effective care campaign at the forefront. Pictured are the delegates from the South West as they attended the day on 16 July to lobby MPs in Westminster. How great it was to see our region so well represented, with members speaking to MPs about the challenges they face at work, the RCN campaign and need for legislation to help address the staffing crisis. Really well done to you all and everyone involved in the campaign throughout the region. Unfortunately, I was not able to be there as the same day we had the council meeting but we were able to tweet our support and we were kept informed about how the lobby was going.

RCN Council met on 16 July at the RCN Cardiff Gate RCN office. This was so we could also visit the site and departments including: membership advice, publications, counselling, HR, IT and web design, and distribution, to mention but a few. It was an excellent opportunity for us to see the immense amount of work undertaken to support members and staff alike. The welcome was superb from everyone there and the wonderful receptionist had very thoughtfully looked us up online and greeted us each by our name. It is so gratifying to see how the members receive support, that staff go the extra mile for them and to be able to see, and understand, the myriad of issues that our members have questions on.
Then on 17 July we had the full RCN Council meeting. The agenda is always packed. We started at 8.30 am and the main meeting was live-streamed again for members.
You can watch it here.
Some of the issues we debated and voted on were:
The resolutions and discussion points at RCN Congress: 23 in total, plus emergency resolutions and several were from our region. The emergency resolution calling for a full and independent review of governance was voted on by Council as worded at Congress.

We discussed rejoining the International Council for Nurses. I spoke to this and I am pleased to say that a review of the benefits of international alliances will be undertaken and and any decision will be taken to the membership at an AGM in the future.

The complaints resolution policy and process is being rewritten and will be sent out to members for consultation, please look at this when it arrives and make comments.

The membership engagement strategy will also be sent for members to look at so please again look at this and comment if you wish. It is so important we all engage in the processes so we can truly take ownership.
Another key issue that will be high on the agenda is that next year we will be the final year of the three-year pay deal so negotiations for future pay will commence shortly and we all know how important this is to all of our members.
We also looked at the imagery and messaging for the Staffing for Safe and Effective Care campaign on the back of all the member engagement events across all the countries and regions. I have mentioned already the wonderful profile of our members who went to Westminster and now we will be building on the momentum. At present messaging and imagery are being tested independently and they will be launched in the coming months. Monies are available for the campaign and with the number of nursing vacancies we all know how vital this campaign is to us all, working or receiving care.
We also started to look at the evaluation of Congress 2019 but haven't completed it yet. On a very positive note we saw a significant increase in the number of students registering and attending and equally importantly an increase in HCAs/ nursing support workers attending, even though the numbers are still not large this is a positive. We also discussed how best to engage and support our colleagues working outside of the NHS.
The role of RCN Council is to look at development proposals and strategy; engaging with the membership; planning the future for the organisation. Our job is listen to the facts and take into consideration the members' needs and, very importantly, their views. It is a privilege for me to represent the South West Region and every member in it. For this meeting alone the papers were over 200 pages long and I can assure you that we do listen to our members' views. I do think that the introduction of live streaming is a really positive development and alongside social media, will help us to be open and transparent. The meeting lasted eight hours but they did feed us!
We have very busy times ahead friends and I look forward to working with, and in the interests of, you all in the South West Region.
As always please remember that I would be really interested to hear from you if you have anything to celebrate or of interest so I can put it on my blog or tweet. We are a large and diverse region and it's good to celebrate and keep up the interest. If you have any thing for me to share or talk about please let the regional office know (email southwestern.region@rcn.org.uk) and they will forward to me.
Also please follow me on Twitter @gwalkerpoole1 and now on Facebook (but I'm still a novice with this so please bear with me).