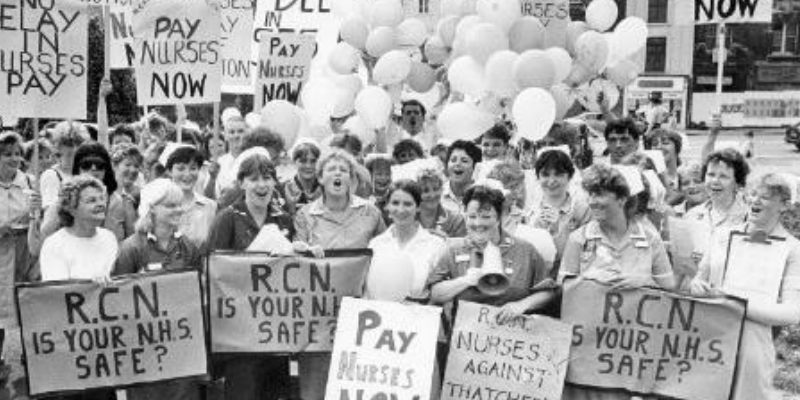 Tell us a bit about yourself – what brought you to the exhibition project and what work will you be doing towards it?
At the moment, I'm completing a PhD in Holocaust studies at the University of York. I'm looking at theories of cultural memory and physical space, in relation to how we express and understand the events of the Holocaust through artistic representation. So, nothing particularly related to nursing, it has to be said, and theories of emotion don't really come into my work too much either! I came to the project through my funding body, the White Rose College of the Arts and Humanities (WRoCAH), who run a scheme that enables students to undertake a month-long work placement during the second year of their PhD, in a field not directly related to their research (which explains why I'm researching a topic on which I previously had very limited knowledge!) The WRoCAH team and the team at the RCN library had already partnered up, and I thought that the proposed project on the history of emotion in nursing sounded fascinating. I also had a personal motivation for wanting to get involved with the project, as both my parents work for the NHS – my mum is a nurse in Nottingham (and RCN member), and my dad works in logistics around Derby hospitals. I hoped it might give me a small glimpse of the kind of things they encounter in their working lives, and I'm pleased to say that I already feel as though I have a better understanding of health care.
The research area I am focusing on for the exhibition is the history of 'anger' in nursing. Up to now, I've mainly been reading around to acquaint myself with some case studies and to get up to speed on some of the key things that I'll need to know in relation to the profession. I also took part in a focus group with some RCN members during the summer, and have made a few research trips to archives, including the RCN archive in Edinburgh. These experiences have been invaluable in improving my understanding of the role played by emotion in the nursing profession, and the results of my trips will no doubt have an influence on what I produce for the exhibition. It has been a fairly daunting challenge so far, in terms of getting to grips with a totally new field of research, but I've enjoyed it a great deal; I think I'm beginning to gain some understanding of both nursing and the role emotion plays within it, and how those things have shifted and changed over time.
Could you tell us a bit about what you've been reading, and how you've approached the project so far?
For me, the first thing to determine was how to treat the concept of 'anger,' and more specifically, how to answer the question of whether it is always negative. Likewise, might we apply anger collectively to a larger group, or should I be thinking of it in terms of individuals? I came quite quickly to the conclusion that anger can be both collective and productive, and on that basis industrial action immediately sprang to mind. I thought that this would be an engaging point of contrast with what you might immediately think of when you connect "anger" and "nursing": examples of either angry nurses or angry patients. It also offers an opportunity to connect the idea of anger to industrial action in the context of a profession that doesn't necessarily spring to mind immediately, since strikes by nurses are relatively rare. Reading material on anger, nursing in general, and on nurses' strikes gave me the sense that, at the root of most disputes that have resulted in strike action, the central issue often appears to be a perception, amongst angry nurses, that their worth in the eyes of society is being attacked or eroded by (e.g.) an uncaring government, or an unsympathetic press, as well as not being listened to. I found that the case was similar when I read some personal, individual accounts of anger – either from nurses, or directed at nurses. On some occasions, the lack of a proper channel through which to express concerns allows discontent to develop into something more heated.
My next step is to find some more historical material relating to individual instances of anger, and to think a bit more about the historical context surrounding each of the case studies that I've found. A vital thing to consider will be how these contexts differ as time moves on, and what kind of impact this might have on the expression of anger within particular (similar) sets of circumstances.
You mention that you've come across some case studies already – could you tell us a bit about some of those?
One example so far that I found particularly interesting came in the form of the 'Radical Nurses Group' (RNG) material that I came across in the RCN archive in Edinburgh. The group was established in 1980 as a response to what its founding members viewed as an inadequate level of support and guidance from hospital hierarchies, unions, and other groups. It quickly became fairly popular. A number of local groups sprung up around the UK, with the first being founded in Sheffield and others following in London, Manchester, Edinburgh, Birmingham, and many other locations nationwide.
Since the group's actions typically consisted of meetings for members to air issues and grievances, it might not (at first glance) be considered particularly angry. Nonetheless, I think it's a worthwhile case study to include for a couple of reasons. Firstly, because the group's founding was rooted in frustration, which we might see as a kind of offshoot of, or precursor to, anger. Secondly – and connected to the first point – I think the group represents a kind of release valve, in the sense that it gave members an opportunity to discuss the problems they saw in the profession, and ways to move forward. Finally, the Thatcher years, the 'winter of discontent,' and industrial unrest offer a noteworthy social context. One stated aim of the group was to 'fight the hierarchy's restriction on our freedom to take up political issues.' The politics of the RNG were expressly 'socialist' and 'feminist,' and in that sense diametrically opposed to the politics of the Thatcher administration (that the group was founded in Sheffield is perhaps significant too, given that the city was known during the 1980s as the 'Socialist Republic of South Yorkshire' on account of the make-up and actions of its council). The idea that the organisation acted as a kind of release valve for frustrations seems to bear out in the discussions that took place in its meetings, not least in relation to the role of male nurses in the group; this topic prompted a number of angry exchanges at the first RNG conference, and through correspondences in their newsletter.
By contrast, an early case study that was suggested to me was a strike carried out by nurses at the Nottingham County Asylum at Radcliffe-on-Trent in 1922. This year saw the establishment of the Transport and General Workers' Union, the first of a number of 'hunger marches,' and the overtaking of the Liberal Party by the Labour Party as the country's second largest political force. It also shortly preceded the general strike of 1926. The nurses at Radcliffe asylum were protesting a pay cut that they suggested would be of detriment to their quality of life and, in turn, would affect patient care. They barricaded themselves in the asylum, where they were supported by their patients. What's intriguing about this incident for me is the stark contrast it provides with some of the later examples. The scenes described in newspaper reports at the time are very heated, and are portrayed in militaristic terms in the reporting, while the approach taken by the authorities to the nurses' actions appears extremely heavy-handed, even as it was reported by a press that appeared deeply unsympathetic to the nurses' cause. One constant in both these examples is the underlying feeling of a lack of worth in the eyes of (e.g.) the government, and even the public – the perceived undervaluing, or devaluing, of such a vital profession. This is a connecting thread that I aim to keep firmly in mind as I continue working on the project, and one that I'm keen to try and put across in the work that I produce.
More information:
To read more about the wider project, take a look at our blog on the history of emotions. You can also find out more about our project partners at Queen Mary University Centre for the History of Emotions on their website.
The exhibition will launch at the RCN Library and Heritage Centre in London in January 2020. Keep an eye on our website as we update it with more information.