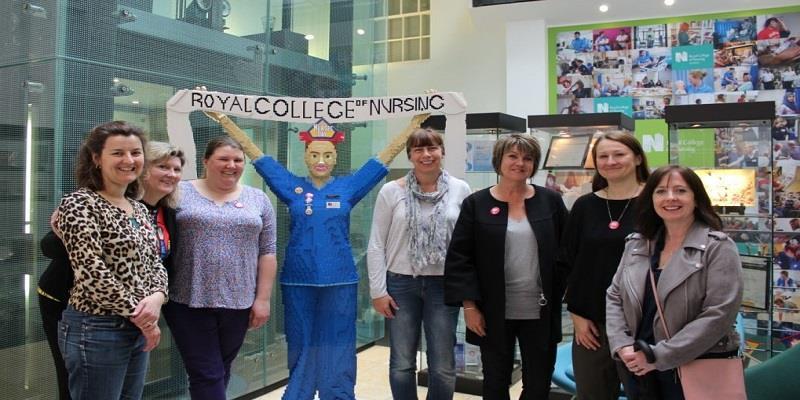 Return to Practice nurses with their tutor Lyn Crouchman, meet our Lego nurse, Poppy, on their RCN visit.
The RCN Library and Archive Service offers free tours of our Library and Heritage Centre in London HQ to nurses, nursing students and anyone interested in the history of nursing. Recently a group of nurses on the 'Return to Practice' course at Bucks New University came to look around.
The 'Return to Practice' course at Bucks New University is an intensive 15 week course combining university study and a supported clinical placement. Students may have lapsed registration for a variety of reasons, such as carer responsibilities, and the course enables nurses to re-register with the NMC, re-join the profession and renew their career path.
The tour of London HQ was an opportunity for students to re-engage with the RCN, find out about current developments, and explore the Library resources.
Our collections support learning and continuing professional development at all career stages, including those returning to practice. We have materials on study and research skills as well as resources to support practice in the workplace. Our collections. Many of our materials are available online with 24/7 remote access, as well as the printed collections in the Library and Heritage Centre. We will also post books and articles to members. Another member benefit is free one to one training in using electronic databases and resources.
As one of our visitors said "the RCN visit was amazing, there is so much there for us… I'm going back"
To book a visit and tour of RCN HQ and the Library and Heritage Centre please email us or call 0345 337 3368.