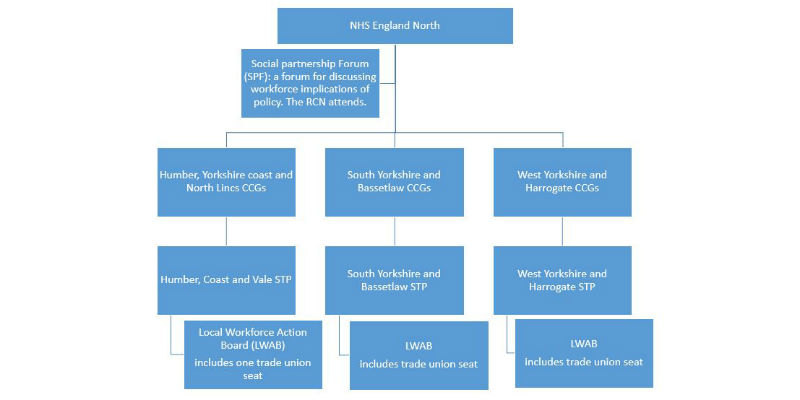 The diagram above gives a really rough overview of how STPs will fit into the NHS funding and commissioning structure across our region.
Each of the STPs has now set up a Local Workforce Action Board (LWAB) and these are the main vehicle for the RCN and other health trade unions to get involved in discussions and scrutiny around workforce planning. We will use these as well as our connections within the CCGs to keep an eye on discussions and planning that may impact on nursing in a positive or negative way. At the moment the RCN has a seat on the Humber, Coast and Vale LWAB and we share information with other trade unions just as they also share information from the other LWABs.
We know that a key aim of STPs is to save money and we are aiming to use our influence to ensure this does not negatively impact on nursing staff and of course patient care.
At the latest West Yorkshire and Harrogate STP CCGs' Joint Steering committee there was an update presented on the work streams relating to stroke, elective care and urgent and emergency care. In relation to all three work streams the project groups are working up the pathways but most of this work will not be completed until mid-2018. There are also pathways being developed on mental health and cancer care.
As with all aspects of healthcare we believe that nursing has to be at the heart of any strategic and financial planning and at this stage it is unclear what nursing input into these projects there has been. We will be pushing for greater input and engagement in order to gauge which changes we support and might influence as well as which we might resist.