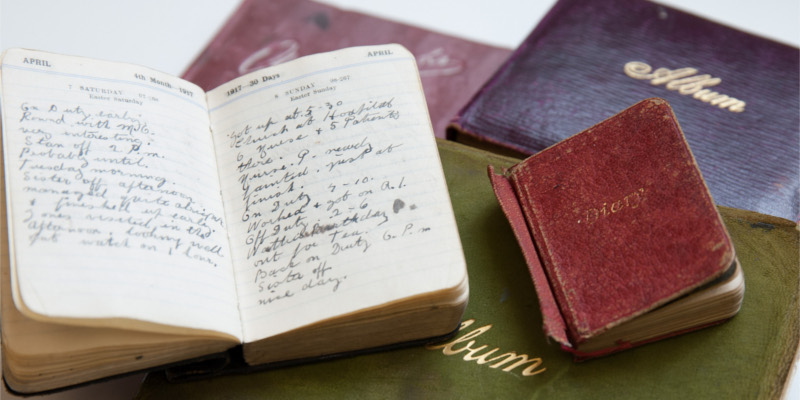 One hundred years ago, Britain was at war. As the number of casualties quickly grew, the need for nurses had never been so high.
At the outbreak of war in 1914, every major hospital in Britain had a recognised school of nursing. Yet the military nursing services were tiny: in 1914 there were just 297 trained nurses in the Queen Alexandra's Imperial Military Nursing Service (QAIMNS), with a reserve of 800. The Territorial Force Nursing Service (TFNS) was not much larger.
By 1918, over 17,000 nurses had served in military hospitals around the world, some as close to the front as at Casualty Clearing Stations a few miles behind the trenches.
In 2016, with the support of funding from the Heritage Lottery Fund, the Royal College of Nursing is conserving and digitising ten First World War nurses' scrapbooks from our collections. These little known nurses worked in France and England, and recorded their lives at war through comments, quotes, poems, illustrations and photos, often from other hospital staff and soldiers.
The sheer scale of the project – nearing 1000 pages of content – meant we needed an army of volunteers to help us. Luckily, the RCN History of Nursing Society is formed of active and dedicated members, and more than 30 nurses have so far offered their time to help us through the project.
We started by digitising the pages, a process which is nearly complete. You can read Kate Regan's blog on her first time digitising here. By the end of this project, in early 2018, we will have a dedicated website detailing the 10 nurses' lives, filled with research done by our intrepid volunteers.
During the project, we also have a writer in residence, Molly Case. Molly is a poet and cardiac nurse, and will be in residency every Wednesday in the Library and Heritage Centre until the end of October. Drop in for a chat or some poetry tips, or join one of our creative writing workshops or other events.