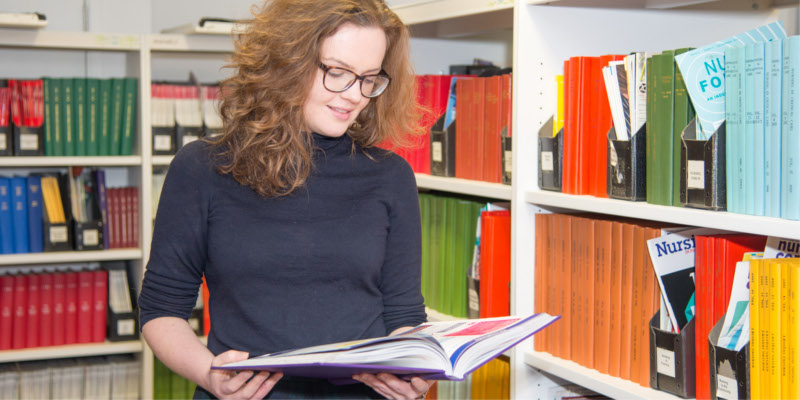 There's a lot more to the library than you think. Sure, our primary focus is the subject of Nursing. But there is also a wealth of non-nursing material in the collection and in this blog post, I have outlined seven compelling reasons why all RCN staff members should take full advantage of the library.


1: Get Expert Help through Literature Searching and Information Literacy Services
If you're carrying out research into certain areas of Policy or Practice, library staff are on hand to help. Our literature search service will offer a list of useful resources and articles to kick-start your research as well as Information Literacy training searches tailored to meet your particular research needs. What's more it's free and will make you a better information seeker.


2: Self-Help your way through 2018
The library collection is particularly strong in its holdings of books on Personal Development, Leadership, and Mentoring, including books like Graham Robert-Phelp's Working smarter: getting more done with less stress and Sheryl Sandberg's Lean In: Women, work and the will to lead. If, like many others at this time of the year, you've found yourself contemplating your future life choices, the library's collection of self-help resources is a good place to start.
3: Know the score on Employment Relations, Workplace Rights and Union Activity
The RCN subscribes to key resources in this area, most notably Labour Research Department (LRD) publications. Access to LRD is available via the intranet and is of particular relevance to Reps and Trade Union committee members. Covering the areas of Health and Safety, Pay, Benefits and Contracts, these resources outline your rights in the workplace and will give you the confidence to exercise (and defend) those rights where necessary.


4: Your career is a Project. Manage it
Unsurprisingly, as the library of a professional body, our collection of resources on CV, Interview, and Career-Management skills is pretty well-stocked. Of course with continual shifts in workplace culture, these books can very quickly seem out of date. Still, classics like Rebecca Corfield's Successful interview skills: how to prepare and answer tough questions (now in its 5th edition) contain some perennially good advice. Other titles worth looking at include Getting to Yes: negotiating without giving in and - one of my personal favourites - John Baldoni's Lead your Boss (this book is not as Machiavellian as it sounds).
5: A Place to Think
The open plan office space has its advantages. But every now and then, we all need a quiet place to think and get stuff done. The library offer suites of quiet and group study areas which, although primarily created for members, are open to staff as well.
6: Find a good read: Contemporary Literature, Fiction and Poetry
Few people know this but the library also holds a growing collection of fiction and poetry including works by Tracy Chevalier, William Boyd, Mark Haddon, Graeme Simsion and Molly Case. A good book will take your mind off the pressures of work and will make your commute that bit less hellish. These works all contain a nursing/clinical/mental-health slant that, expressed through the medium of fiction, enrich the library collection in compelling and distinctly imaginative ways.
7: You don't have to leave your desk to use the library
Most of our services and a great many of our resources are fully accessible online. Remotely, from anywhere in the world with an internet connection, you can log-in to your library account and renew your books, access our e-books, e-journals and databases as well as Instant Message us with any questions.
Further details are available via the library website so do explore. Also have a look at our Subject Guide pages and follow us on twitter @RCNLibraries. It's all here for you and it's free so we look forward to seeing you all in 2018.