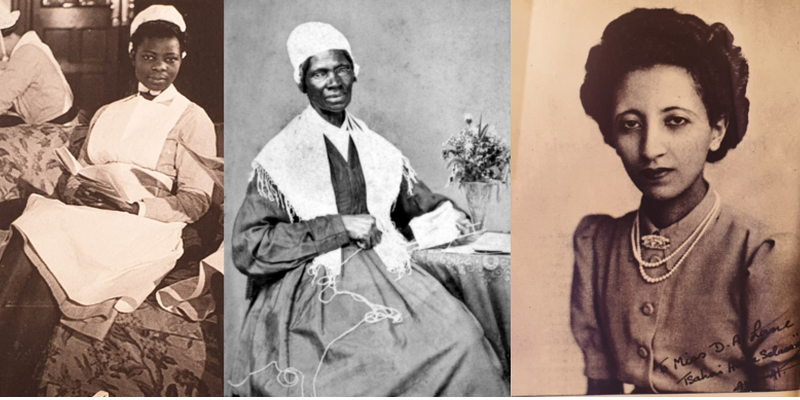 As we all know, October is Black History month, a time to celebrate inspiring individuals and events within the wider Black and minority ethnic community. Here at the RCN Library and Heritage Centre we've put a little display together, shining a spotlight on just a few inspirational figures.
To serve as a small introduction to the books, photographs and articles from our collections on display, here are few of the nurses and health pioneers from the 19th and 20th Century, who have contributed enormously to Nursing throughout history.
'The Path We Tread' by Mary Elizabeth Carnegie from our special collection, an account of over 140 years of black nurses' contributions to the field, from 1854-1994, makes for a very interesting read. Mary Elizabeth Carnegie explores black nurses' involvement in the military, nursing education and the struggle for recognition by national nursing organisations, and early leaders who paved the way for black nurses today. The cover of this edition is the most striking thing however, a painting of Sojourner Truth reading a bible whilst the tall and unmistakable figure of Abraham Lincoln stands behind her. This depicted a meeting with Abraham Lincoln in 1864 after having heard of her activities, many activities being sanctioned by him. Born a slave in New York in 1797, where slavery had been officially recognised as legal since 1684, and freed by the New York State Emancipation Act of 1827, of the slaves who were freed Truth was one of the most remarkable. Sojourner Truth was not only a famous abolitionist and underground railroad agent, itinerant preacher, lecturer, women's rights worker, but also a nurse during the Civil War and immediately thereafter.
When thinking about black history and nursing, we can't go with out talking about Mary Seacole, where we have numerous references to her on display, from a chapter on 'Answering the call' in 'The Path We Tread' to her famous autobiography the 'Wonderful adventures of Mrs Mary Seacole in many lands' (1857). Mary Grant Seacole (1805-1881) was born in Kingston, Jamaica, where in her time no formal training in nursing existed. She notably served in Panama and Cuba during cholera and yellow fever epidemics.
When Seacole learned that hostilities had broken out in the Crimea, she wrote to the British government asking to be allowed to join Florence Nightingale in the Crimea as a nurse, but her request was denied. Especially concerned when learning many of the regiments she'd known in Jamaica were being sent to this area where disease killed more soldiers than did wounds, at her own expense, she sailed to England with a letter of introduction to Nightingale. Not swayed by being refused to join this group, she still worked and volunteered her services and wanting to serve as an army nurse and won the respect and admiration of the English people back home. We have a first edition of her book, Wonderful Adventures of Mrs Mary Seacole in Many Lands in our special collection (viewable by appointment), and newer editions can be borrowed by members.
Moving into the 20th Century, we've displayed the aptly named 'Heroic Nurses' by Robin McKown from our store. Here we have on view an extract on Princess Tsehai Haile Selassie, along with her photograph. Born in Ethiopia in 1919, was the fourth child of Emperor Haile Selassie and Empress Menen Asfaw. Against royal tradition, she began nursing in August 1936 as the only non-white probationer at the Great Ormond Street Hospital for sick children in London. She enrolled in postgraduate courses at temporary wartime quarters, where she tended some victims of the Blitz. After her death in 1942, the Emperor Haile Selassie founded the Princess Tsehai Memorial Hospital in her memory, which also served as a nursing school, later renamed the Armed Forces General Hospital.
We've also displayed an article from the Nursing Standard (1998) an account from Daphne Steele's 'Mother Country'. Daphne Steele was a Guyanese nurse, who in 1964 became the first black matron in the national health service. After undertaking training in nursing and midwifery at the public hospital in Georgetown in 1945, she emigrated to the UK as part of the British government seeking to recruit people to the new NHS. In this article you can see her account of late 40s and 50s Britain and the culture shock.
You can see these items and more at the RCN Library and Heritage Centre, or you can view photos of them on our
Instagram here
.