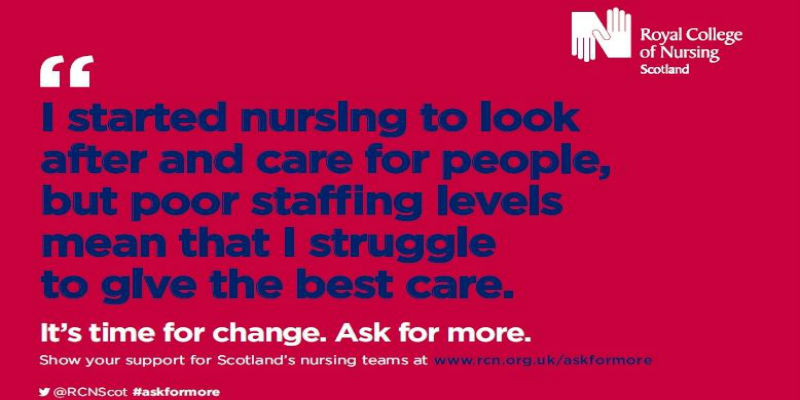 Last year over 3,000 RCN members across Scotland spoke out about the negative impact that poor staffing levels were having on their work and their patients.
More than half, 55 per cent, of those who took part said shifts fall short of planned staffing levels; and 51 per cent said that the shortage is compromising the care given to patients.

That's why the RCN in Scotland launched its 'Ask for more' campaign on 5 September – because everyone deserves safe care.

Over the last two weeks nearly 1,000 members of the public have supported the RCN's campaign. But I'm asking you to add your support.

As a nurse, health care support worker, or midwife, you know that there's a direct link between you having the time to care and positive patient outcomes.

That's why we're asking MSPs debating the Health and Care (Staffing) (Scotland) Bill in the Scottish Parliament to make sure that they ensure that:
You and your colleagues are given the time to provide the best care for your patients.
Senior charge nurses are given the time they need to lead by making them non-caseload holding.
Nursing staff having the time to undertake further training and continuous professional development.
If nursing staff don't have the time and skills they need to provide the high level of care that they want to then it is patients who suffer. But to get this message to those who make decisions, it's crucial that as a nursing professional you make your voice heard.
So please add your support to the campaign.

You can also encourage your colleagues to add their name to the campaign by downloading a workplace poster