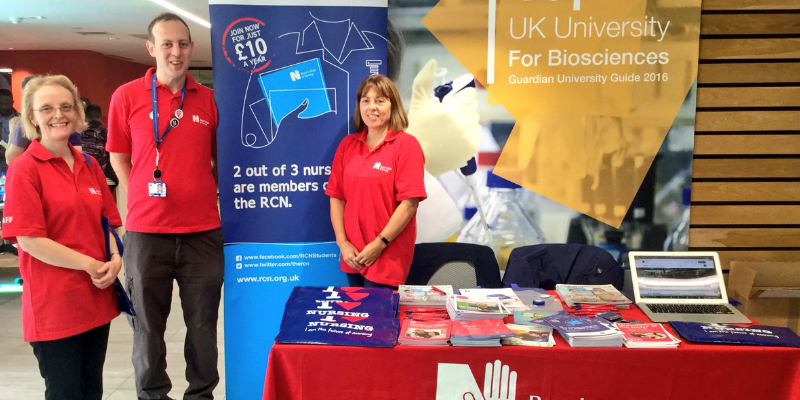 The Library and Archives team along with other colleagues across the UK are very proactive in working with our regional and country colleagues to support as many student recruitment events as possible across the UK.
I may be biased here but I really do think that the RCN product is a fantastic one and joining our organisation is essential for students at the start of their nursing careers. In this blog post I thought it would be useful to highlight some of the services that the Library and Archive provide to student members. Don't forget that the library offer is a unique selling point (USP) to the RCN. So when you're at a student recruitment event and engaging with new or potential RCN members you may wish to consider the following points….
The Library and Archive website: this is the gateway to some brilliant resources and is found at www.rcn.org.uk/library. From here members can access around 30,000 e-books, 1,100 full text nursing journals and Library Subject Guides which cover key areas of nursing. We also have our intuitive library search tool which works a bit like Google and enables you to search for information and evidence. We provide access to key nursing databases including British Nursing Index, CINAHL, Internurse and many more.
Expert help: nursing is such an 'evidence based' course and finding the right information can sometimes be daunting. We have a team of information professionals with telephone and WebChat sevices which are staffed Monday to Saturday (9am to 7pm during weekdays and 9am to 5pm on Saturdays) which members can receive help finding information.
Libraries in Edinburgh, Cardiff, London and Belfast: as well as a comprehensive online offer, we have four country presence with libraries in Edinburgh, Cardiff, Belfast and the Library and Heritage Centre in London. Here you can use our study spaces and receive help from nursing librarians.
Access to information beyond studies: it's always worth remembering that access to a universities library resources will finish when you graduate. The RCN's library resources will still be available to RCN members when they step into professional practice.
So that's my summary of just a few of the Library and Archive services we have available to members. If you would like to find out more about , please get in touch!