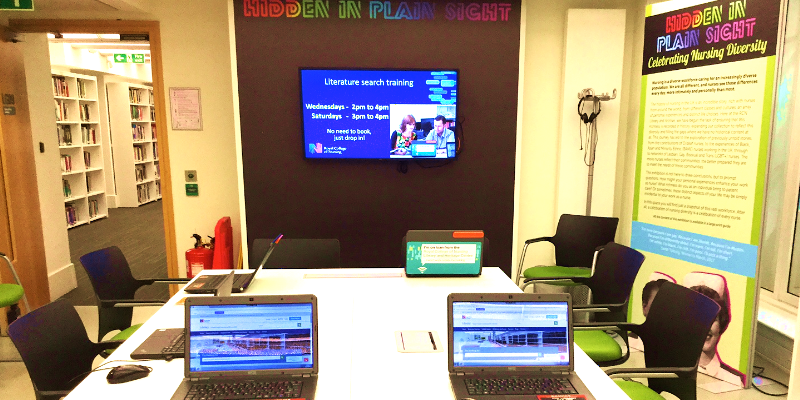 Perhaps once upon a time, working every Saturday would have been a welcome opportunity to re-ink the date stamps and rearrange a few tomes. But things have changed a fair bit over the years:
8.45am
I sign in, say "hi!" to Security and Reception staff, usually Lisa - a ray of sunshine, even on the most dismal of autumn mornings(!) and pick up the Saturday newspapers. I bound up the famous grand staircase to the library office, grab a coffee and log into my work laptop.
8.55am
My colleague and I get the library ready for opening at 9am - switching on everything in sight, putting the papers out, waking computers up and preparing the till. I shelve stray books and check for requested items.
9.15am
I log onto our web chat service, and our shared email folder. Our enquiries range from "Rnw bks Plz :)" to "My great, great aunt was a nurse in the Crimea. Can you send me all the information you have on her…?". We refer queries on when necessary but the Customer Service Team answers over 80% of enquiries via this one inbox – just one of many reasons why the Library and Archives Service (LAS) achieved Customer Service Excellence accreditation earlier this year!
10.30am-12pm
Time to put together a Literature Search for the Information Team as part of my link role. This arrangement allows members of the Customer Services Team to work part of their time for one of the other five teams within LAS. I gather references to books and articles from our library search and from databases by using carefully constructed searches, and compile results for the member requesting the search.
12-1pm
I'm at our welcome desk now, answering queries from members and other visitors whether face-to-face, over the phone or using our web chat service. Events on Saturdays at RCN HQ, such as a recent Flight Nursing Workshop and Open House make for an especially busy shift around lunchtime, with many visitors using the café in the library space (recently referred to as the "best kept secret in the West End of London" by one regular!).
1-2pm
My lunch break! Always a good opportunity to scavenge leftovers from birthday gatherings, leaving dos, cake sales and the like in the largely empty offices upstairs (kidding, of course! Though it is tempting sometimes…).
2-3pm
I rove around the library during this hour. We're proactive about approaching our users to ask if they need any help and aim to be as visible a presence in the library as possible. We also keep the space neat as we rove; tidying any messy bookshelves and reporting any equipment faults. I set up the library's Nursing History Room for a drop in session for RCN members, starting at 3. The laptops we use for these sessions can also be borrowed for use in the library.
3-4pm
The drop in sessions are where members to get help with information skills, including searching our databases. Often it's student nurses working towards their final year dissertations looking for help with their literature searches as well as registered nurses.
4-4.15pm
I clear away after the drop in and collect feedback from attendees. Members report that they really appreciate these sessions and recommend them to their friends. Students at New Bucks University, in particular, have become our biggest fans of late!
4.15-5pm
Time to tie up any loose ends. I also monitor the @RCNLibraries Twitter account on a Saturday. Anything I have not had a chance to respond to earlier in the day, or which might be timely to mention before the following week, is tweeted now. This month I have been tweeting about our latest exhibition which is all about nursing diversity. I also update the display screens in the library.
5pm
Time to go home! Working Saturdays means I get the Monday off, so I leave it to my trusty Out of Office Assistant to bear the strain whilst I live la vida loca until Tuesday morning…