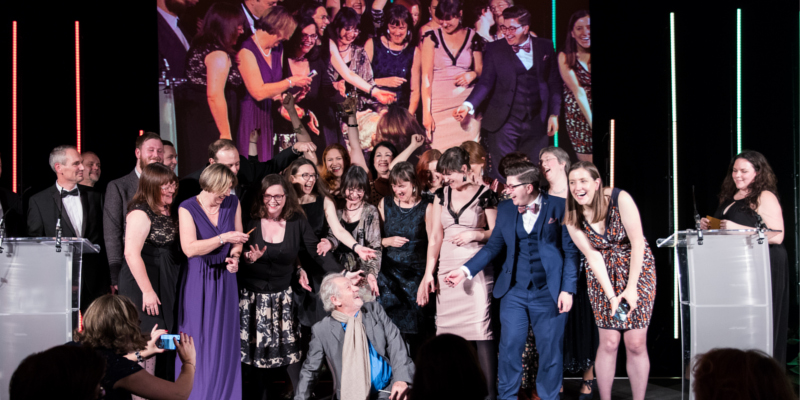 The RCN's Staff Awards for Excellence are held every two years, and for the first time ever the Library and Archive Service were nominated for Team of the Year. The night is funded entirely by kind sponsors, meaning that no members' money is spent on the evening. Suffice to say we were all quite excited to don our black tie suits and evening gowns, and thoroughly enjoyed the event. We had some tough competition as the other teams we were up against rightly received nominations in recognition of their hard work this year too. Considering all the achievements we had this year though, we were all so thrilled to be called up to the stage as the winners. We were especially lucky as one of the guests presenting the awards that evening was Sir Ian McKellan.
I think Sir Ian was a bit taken aback by how big our team is as we simply kept piling on to the stage, and for our winner's photo wasn't sure where to stand, so instead got on the floor. What a feeling, to have just won Team of the Year, and to then have such a super activist and acting great, Gandalf and Magneto, at our feet!
The award reflects my team's journey over the past two years. When I joined in 2016 we were in the midst of celebrating our Centenary at the RCN. Exhibitions celebrating how the RCN was founded in 1916 were unveiled, interesting stories about our founders were revealed, and the library was growing its offer for members. This work has continued in 2017, you can see just some of the projects we have worked on by looking back at the
team's fantastic blogs
. We also achieved a hat-trick with awards this year, achieving our
Archives Accreditation
, the
Customer Service Excellence award
, an accreditation recognising the standards with which we run our entire service, and very recently we got our third award; RCN Staff Team of the Year.
We're so very grateful for the eight nominations we received for the award, and are still riding the high from having succeeded. I'm proud of our entire team, and so proud to work for the RCN, supporting our members and delivering the best service possible. May 2018 be just as spectacular!