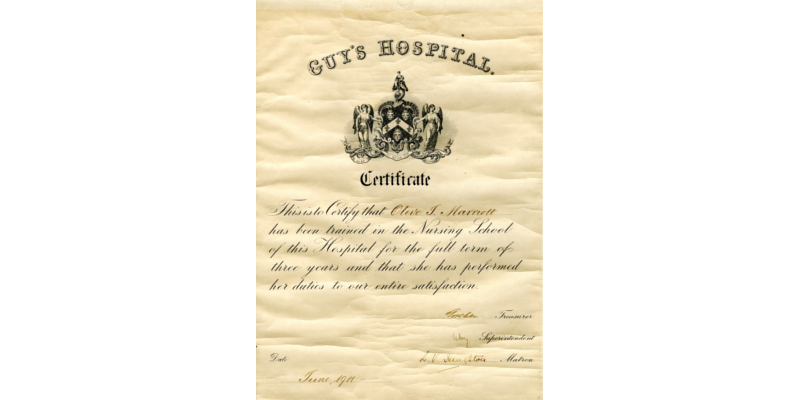 The RCN holds the most important
collection of nursing history
in the UK. Most of our donations come direct from an individual, or from the family after their nursing relative has died or become infirm. However, some come via a more circuitous route…
In October 2018 I was invited to talk at a Southampton & Isle of Wight branch meeting about the Library and to receive a donation for the archive. Along with other items, I was presented with a large framed certificate and a fascinating story.
The certificate was found in a skip by one of the member's mother-in-law who thought she would be interested in anything nursing related. The certificate is from Guy's Hospital Nursing School, dated 1911, and awarded to an Olive Jane Marriott on completion of three years study. The certificate records her studies and marks – she was a first class student.
Also presenting at the meeting was Kirsty Gray of
Family Wise Ltd
, who had been commissioned to find out more about Olive. Kirsty's fascinating talk detailed her searches through census records, ship passenger records, and civil records to trace Olive's life.
One of the sources Kirsty used was the Guy's Hospital 1937 Nursing Guide, Handbook of Nurses' League and Register of Nurses trained at Guy's Hospital, a copy of which we digitised in partnership with
Ancestry
.
Kirsty's research identified the Olive M Taylor, nee Marriott, in the handbook as being the same Olive J Marriott named on the certificate. According to the handbook entry, Olive first started as a probationer and private nurse in Bournemouth, before completing her training and then working at Guy's Hospital. Olive was briefly the Sister-in-Charge at Windlesham Auxiliary Hospital, one of the many Red Cross auxiliary hospitals created to care for wounded and convalescent soldiers during World War One, before travelling to work overseas at the Government Hospital in Batu Gajah, Malaysia.
At some point soon after February 1920 we presume she married Mr Taylor and retired from nursing. Kirsty was unable to trace any living descendants of Olive, which could be why the certificate was found in a skip. Head over to our Instagram account to
see images
of the certificate and the Handbook entry.
We are always interested in growing our collection of nursing history, please
get in touch
with us if you have items that may be suitable for our archives.