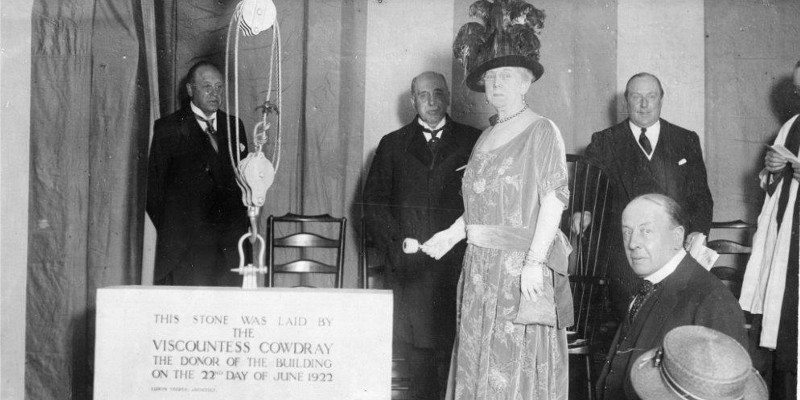 History books about the Royal College of Nursing all record the same story on how 20 Cavendish Square came to be our headquarters. Rachael Cox-Davies, Matron and a founding member of the RCN, shared a taxi ride with her friend Lady Cowdray. In this short taxi journey, Cox-Davies highlighted that the College of Nursing was growing in membership every day, and that the offices they inhabited in Henrietta Street were no longer large enough to accommodate their needs. The old Asquith house at 20 Cavendish Square was up for sale, could Lady Cowdray purchase it for the College? The answer: of course.

Not only did Lady Cowdray purchase these buildings for the College's use, but she also established The Nation's Nurses and Professional Women's Club, which came to be known as the Cowdray Club. The club was described as being an international centre where women from all over the world could meet, learn, and discuss details of their work, whether as nurses, or as "professional women".

Cowdray, often referred to as 'the fairy godmother of nursing', struck me as a remarkable woman, and I wanted to learn more about her family and her history. Within our collection are items which document the lives of Weetman Pearson - her husband, who was later the first Lord Cowdray - and their daughter who became Lady Gertrude Denman.

In 1881 Weetman Pearson married Annie Cass, who later became Lady Cowdray, something that Weetman always regarded as the most important event of his life. These two strong characters were certainly a modern couple, supporting each other in their various ventures.

Cowdray accompanied her husband around the world as his family's engineering and construction business expanded. Pearson's portfolio included the Sennar Dam on the Nile, the Grand Canal in Mexico, and the Blackwall Tunnel in London amongst many others. Supporting her husband, Cowdray ensured the workers had hot meals and dry blankets at the end of the working day, and also created first aid posts for them.

In a speech in 1927 Lady Cowdray stated "From our joint start in life it seems to me that we two settled…two of the burning questions which today are still agitating many minds…The first – Is woman's place necessarily limited to the Home? The second – Should married women work? I shall be eternally grateful that life gave me a partner who answered both these questions in my own spirit." We can clearly see from this how Lord and Lady Cowdray were forward thinking, supportive of each other, and very much in love.

To return back to Lady Cowdray's connection to nursing, there is a brilliant pamphlet by Agnes Douglas, her private secretary, who wrote a touching and factual memorial about Lady Cowdray. In this, Douglas explains that Lady Cowdray had been one of the first to recognise the value of District Nursing, had harboured a lively interest in the work of the Queen Victoria Jubilee Institute for Nurses (now the QNI), and had helped in establishing nursing services in many rural districts in England and Scotland, donating money to all of these causes.

Douglas goes on to note that "this modern Fairy Godmother, with the unfailing sympathetic support of her distinguished husband, benefited not one Cinderella but literally thousands of Cinderellas. …They were the result of constructive planning, efficient organisation, and much hard work over a period of years on the part of this remarkable woman".

The Cowdray club has since moved on from 20 Cavendish Square, but nurses continue to benefit from the kindness showed by Lady Cowdray almost 100 years ago when she purchased these buildings for us. Our headquarters in central London continues to hold lectures on many aspects of nursing and nursing history, training sessions, and is home to the largest nursing specific library in Europe.
Bibliography
Weetman Pearson First Viscount Cowdray 1856-1927 by J. A. Spender (Cassell: London 1930) 1st ed.
The First Viscountess Cowdray and her Connection with the Royal College of Nursing and The Cowdray Club by Agnes L. Douglas (A. & E. Walter: London 1952)
The History and Romance of Cavendish Square and its Vicinity: A Retrospect by Percy Rudolph Broemel (T. B. Mills: London 1925) 2nd ed.
Lady Denman, 1884-1954 by Gervas Huxley (Chatto & Windus: London 1961)
These items are available to view through pre-booked invigilated sessions at the RCN Library. Contact us for more information