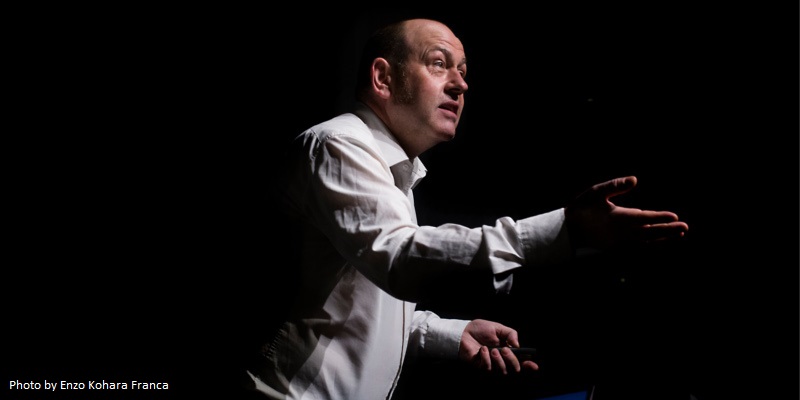 Having been profoundly deaf since birth to a deaf mother and hearing father, I have grown up using both British Sign Language and spoken language. I mixed with both the Deaf and hearing communities, being able to switch from one language to another with ease. It became apparent approaching the age of twenty-three that I was different in the way my work colleagues would treat me especially in terms of communicating. I wouldn't fit in with their conversations during lunchtimes and people would avoid having to 'talk' to me. This led to a sense of frustration in which I had to question my identity, about my being a deaf person, which I had never explored before. It was clear that there was a dividing line between mainstream society in which oral language was the accepted norm hence having undertaken a long period of speech therapy in my schooling years, but this was at the expenses of having no access to deaf role models living in conventional society.

As a result, I sank into a world of alcohol and substance abuse which had an effect on my mental health well-being and this was something I wasn't aware of until I was first sectioned. I rebelled against authority that I felt were imposing the dogma of their language on me, without taking into consideration my need for clear and understandable communication. This went on for the next twenty-four years in which I was sectioned numerous times including a bout in a psychiatrist prison in Spain. Why? Due to the lack of understandable communication. It wasn't until three years ago when I went on to the Bluebell Ward at the National Deaf Centre at Springfield University Hospital that I was able to find understanding and make peace with myself. The staff there all communicated in British Sign Language including the nurses, psychiatrists and psychologists and it was due to this that I was finally able to understand the world and be recovered to find my place in mainstream society.

Had my communication needs been understood right from the beginning then I wonder if I would have had to endure misdiagnosis and mistreatment because people felt they 'knew' better than I did about my communication needs. It was just a matter of communicating in a language that I felt comfortable with, that I would have been able to express my thoughts, feeling and philosophy. As a result, I am unable to trust hearing people due to what I have been through, having survived numerous suicide attempts, been arrested for my safety by the police and all because I wanted to express myself through my hands.

I worry for the future but am assured that more people are recognizing the importance of British Sign Language, how it is essential for those who use this method to be clearly understood. Without the treatment I received from the Bluebell Ward, I am very doubtful that I would be here today, that I would have continued to attempt suicide. Thanks to those at the Bluebell Ward, they gave me back my faith in life, and I now continue to find my peace in mainstream society even if at times, I still experience discrimination through continued ignorance of the variations of communication methods.

Despite being deaf, I don't identify myself by this label because at the end of the day, I am human and expect to be treated as such.


Richard has written three books which are available for £5.99 each (+1.99 P&P) by emailing him at deafnoiseuk@gmail.com. From January 2018, they will also be available from Amazon.
The Book of the Failed Jumper (poetry collection)
The Rise After the Fall (poetry collection)
A Tale of these Contemptible Suicides (autobiographical, only suitable for over 16)