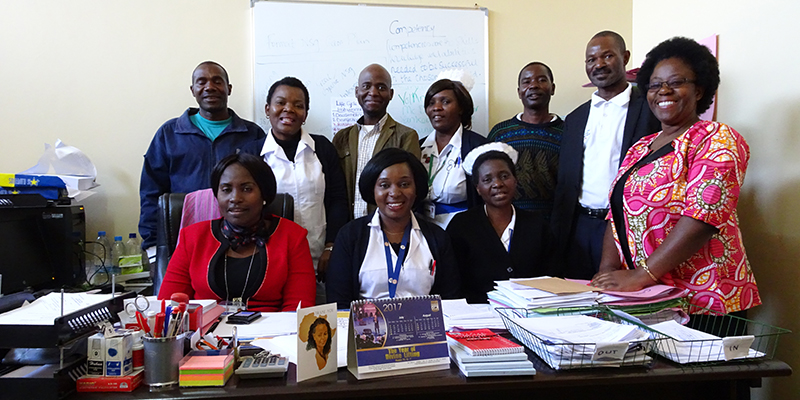 The initial ZUNO project, which was jointly funded by the RCN and the Tropical Health and Education Trust (THET) under the Health Partnership Scheme, ended in March.
The project focused on building the capacity of ZUNO as the voice of nursing in Zambia,by training and supporting staff to implement the use of the WHO safe surgery checklist in the main hospitals in Lusaka and Kabwe.
After initial input from the RCN, ZUNO trained over 220 multidisciplinary hospital staff with 40 receiving additional training as checklist Implementation Champions. Alongside this work, the RCN worked with ZUNO to enhance advocacy and policy-development skills and corresponding action plans.
Phase 2 of the project, which runs until the end of 2018, seeks to further embed ZUNO's professional and institutional expertise.
I travelled to Zambia at the beginning of July to work through the detailed workplan with ZUNO's small secretariat. We identified 4 key objectives:
ZUNO will lead a campaign for the review of Zambia's theatre nursing curriculum. The current curriculum dates from 2009 and the RCN will help to guide and externally review the development of an updated curriculum, using the WHO safe surgery checklist as a key foundation. Meanwhile, ZUNO has an active theatre nurse interest group, known as ZOTNIG, and ZUNO and ZOTNIG are committed to ensuring that all new theatre nurses understand the rationale behind and the uses of the safe surgery checklist.
ZUNO hope to use data captured from extended rollout of the checklist in smaller satellite hospitals in Lusaka and Kabwe to encourage the Zambian Ministry of Health to formally adopt and rollout the checklist nationally.
The RCN will support ZUNO in planning CPD modules for the Zambian nursing workforce. Zambian nurses currently have little or no access to ongoing professional development. However, the General Nursing Council of Zambia has recently authorised ZUNO as a CPD provider and ZUNO hope to develop an early module on approaches to patient safety (including through the surgical checklist).
The RCN will support ZUNO as it seeks to substantially increase its membership and revenue. The Zambian health workforce is expanding rapidly with the creation of 5000 new health workers including the formation of new nursing courses and interest groups. ZUNO have ambitious targets for tapping in to these new opportunities.
The role that nurses play in developing and improving health systems in low resource countries is increasingly recognised. ZUNO are well-networked regionally across southern Africa and the partnership with the RCN has helped them to formalise and extend their professional influence. But the most impactful partnerships benefit from a mutual exchange of learning and insight. The RCN will stand alongside ZUNO as they implement an ambitious work plan but also use the partnership to reflect on how it can best support small national nursing organisations such as ZUNO become leaders in the development of excellent nursing practice.