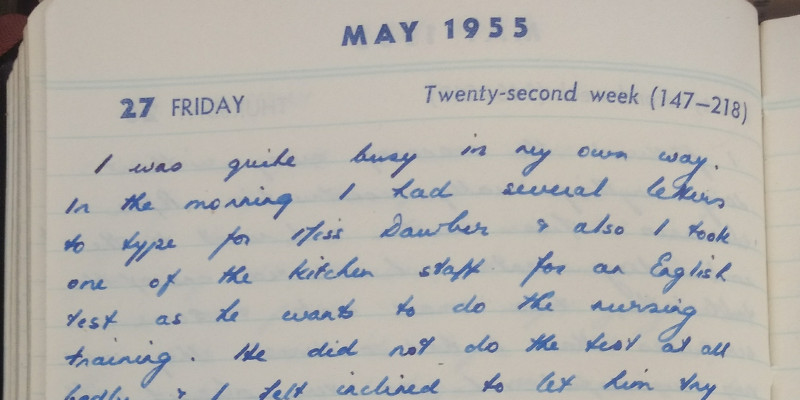 As an archive we specialise in preserving and enabling access to unique, one of a kind records. A lot of these are organisational and tell the story of the RCN from its origins to the present day. We also receive many collections of personal papers from nurses or their families, and these tell more individual stories.
They often include certificates, notes, photographs and a host of other ephemera that form the chapters of a human life – not only do they record nurses career paths but also their overall lives; the decisions they made and the people they knew. We are fortunate to hold several diaries among the collections; but in terms of sheer volume and detail none compare to those of Nurse Muriel Hibbert which span from 1934 to 2009. She started writing in 'schoolgirl diaries' aged 10, and continued writing them almost every day without fail until the age of 75.
They provide an incredibly detailed record of Muriel's personal and professional life, covering her training at Kings College Hospital during World War Two; undertaking her Sister Tutor Course with the RCN in the early 1950s and then teaching nursing in Gaza for the Church Missionary Society and the United Nations Relief and Works Agency Nurse Training Project. She later returned to the UK where she taught at Kings College for five years before taking on the role of Principal Tutor at Northampton General Hospital. She took up her final post in 1971, when she became the first Clinical Nursing Studies Officer for the Joint Board of Clinical Nursing Studies, which she held until her retirement in 1983. Muriel was awarded the Queen's Silver Jubilee Medal in 1977 as recognition of her public service. In later life, Muriel suffered from Parkinsons disease, and was unable to continue writing her diaries by hand. This did not discourage her, however; and she bought a word processor which she used to continue her diaries until she was in her late eighties. She passed away in 2013, and her papers were donated to us by her brother. Besides her diaries, we also have a several photograph albums, nursing certificates, letters, wartime ration books, passports and a variety of other ephemera she collected throughout her life.
This collection is one of the most comprehensive we hold – it contains documentary evidence of almost every aspect of a nurses life and career and as such is a real treasure of the RCN Archives.