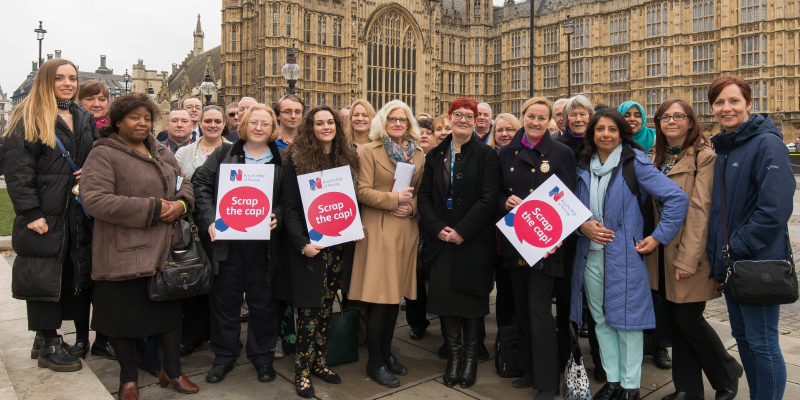 Members shared their stories, and those of colleagues, to illustrate how the cap on pay is putting them under immense financial pressure. And how heavy workloads and inadequate staffing are forcing them to reconsider their future in the jobs they love.
Meeting MPs and disclosing personal circumstances isn't easy – so I'd like to thank those members for speaking out. I know their stories made a huge difference because they were recalled by MPs in the debate this afternoon.
The debate was sponsored by Catherine McKinnell MP. She reiterated our concerns, and those of her own constituents, that the cap on nursing pay is testing your resolve and making your lives hard.
MPs spoke for two hours about the pay cap
and its implications for the NHS. And how pay, along with changes to student funding and uncertainty over the status of EU workers, are leading nursing towards the 'perfect storm'. MPs said nursing staff feel devalued and should be fairly rewarded for what they do.
In his response, the Minister of State for Health, Philip Dunne MP, recognised the need to pay staff fairly, but said this must not come at the cost of current staffing levels. This is a false economy, because investing in NHS staff today will have benefits for the future workforce and patient care.
He claimed the average nursing salary is £32,200. This is misleading because it takes an average from bands 5-9. The majority of nurses are band 5, where average earnings are around £26,360.
While there was no vote to scrap the cap, today's debate is a step forward in our campaign to get the pay award that you deserve. Thank you to RCN member Danielle Tiplady
who started the petition which triggered the debate
, and to each of you who helped us reach over 104,000 signatures.
The Pay Review Body will make its recommendation to the Government by end of February. The debate has drawn attention to our cause and I am committed to maintain this momentum as our f
ight for fair pay continues.