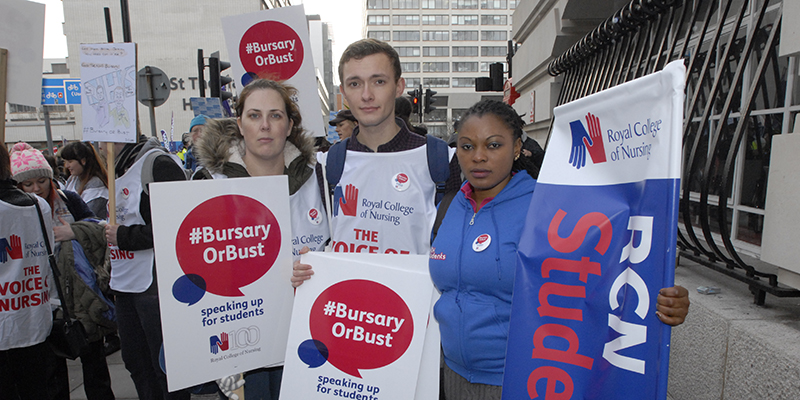 We are at a crossroads. Three recent Government announcements threaten to have a profound effect on nursing for years to come.
First, Chancellor George Osborne announced in the Comprehensive Spending Review, the removal of student nurse funding in England.
Then the Health Minister, Ben Gummer, unveiled plans to create a new nursing associate role.
And now we are awaiting more information on the introduction of a new system of apprenticeship leading to nursing registration.
Though seemingly separate and distinct proposals, they are all pieces of the same jigsaw.
Move us back
What the Government is suggesting through these proposals has the potential to move us back to how nursing education was delivered in the past.
Modern nursing is complex and requires high levels of skills and knowledge, as well as compassion and caring. A university education, with its emphasis on questioning as well as learning, is the best way to develop critical thinking skills.
The Government is risking the future of nursing through the changes to student funding and we are calling for the proposals to be stopped immediately until a more suitable model of funding can be found - the evidence to justify these changes just isn't there.
Nursing on the cheap
Plans for the new nursing associate role could be a step forward – but only if staff in support roles are offered opportunities for better training, regulation and career progression. And this role cannot be a replacement for increasing the number of future registered nurses or providing a nursing workforce on the cheap. The evidence against this is too strong.
Questions remain about the proposals for apprenticeships. It's still unclear how apprentices will gain degree level knowledge, experience and skills across a wide range of settings to meet future health care needs, challenge the status quo and become flexible professionals, able to take on new and different roles.
Members' views
The future of nurse training currently hangs in the balance. As the UK's largest nursing union, we will make sure the Government understands our members' views on these proposed changes and the impact on our nursing workforce and our patients.
We need a 21st century nursing workforce to meet the healthcare needs of the future.
Please continue to get involved with the RCN and to make your views known.