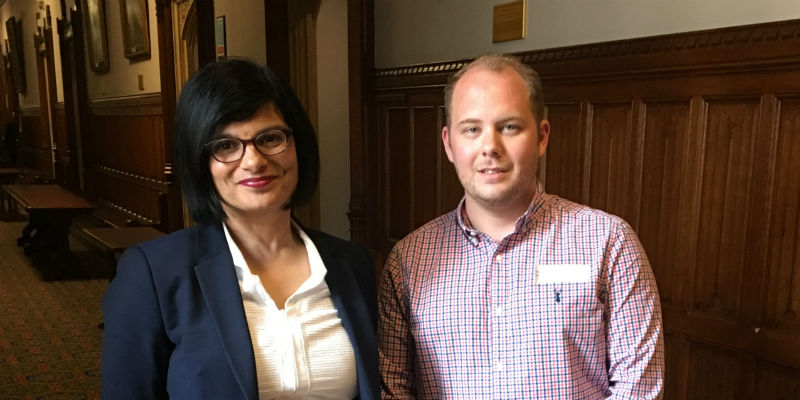 I did my BA in business management before doing a graduate scheme with a major retailer. While I loved my job and interacting with customers, eventually I wanted to use my skills mix to give something back – or pay something forward. My mother and grandma were both nurses and hearing them talk about their careers inspired me to apply to become a nurse too.
I took the postgraduate route into nursing. I already had a student debt, so without an NHS bursary a nursing degree would have been impossible to achieve. Even with the bursary it was still really tough but at least the fees were being paid for and I did get a small means-tested amount of money as part of the bursary package.
I felt very disappointed when I heard they had taken away the NHS bursary for undergraduates because the NHS already has a staffing crisis. We need to train and retain our own nurses, but removing the bursary will just put people off. With the political climate with Brexit, and the fact that the world has a shortage of nurses, nursing just won't attract the numbers it needs.
Nursing degrees are very different from other degrees because students have to complete 2500 hours students work clinically. Now the Government is effectively asking people to pay to work on placements and that isn't fair. There needs to be some way of recognising that nursing students are a valuable part of the NHS. Our degree is very different to other degrees. The bursary at least goes some way towards balancing it out.
It's very sad the Government is planning to abolish the postgraduate bursary. I think the profession definitely needs people from varied backgrounds, which is what you get when you have postgraduates entering nursing too. I have experience and skills that younger newly qualified nurses don't. I've managed a team of 35 people, had difficult conversations, dealt with stressful environments. Because I'm that bit older, I can offer a more rounded view to the team dynamic and support my younger colleagues. We are experiencing the consequences of a generation of nurses who are able to retire at 55. The NHS is going to be losing a lot of their skills and knowledge. We can't afford to lose postgraduate preregistration nursing students too.
If people already in £60,000 of student debt have to choose to enter into another £40,000 debt to become a nurse, they won't do it – they'll look at other industries or careers to go into.
I am so lucky to do the job that I do and I'm so proud to say I'm a nurse. I know I make a difference every day. I have good shifts and I have bad shifts but I learn from every shift. Without the bursary I wouldn't have been able to apply to be a nurse and so I wouldn't be in a career I love giving patients the great care they deserve.