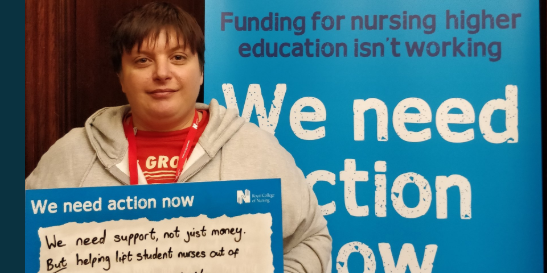 I've always been involved in caring for others, but I resisted becoming a nurse for various reasons – mainly financial.
Then I had a nasty pulmonary embolism, and while recovering in hospital I watched the nurses work and thought to myself "you've been putting this off for years, look at the difference you could make".

I joined the RCN straight away as a student, to access the wealth of knowledge and resources available.
I became a pay champion, and then when I'd settled into it a bit in my second year I finally bit the bullet and took that step to become an RCN student information officer (SIO).

Ever since then I've carried on sticking my nose into all sorts. I've always been a bit nebby [nosy], and it's been really useful - getting extra information about everything suits me!
I'd signed up to the Fund Our Future campaign even before I became an SIO.

When we heard they were going to take the bursary away I joined an activist group at university to petition for its reinstatement.
There was no logic to the Government's decision. There's no way I could have done this course without the bursary. It's already ridiculously hard to get by.
I'm very lucky not having kids to have to pay for and consider too, but I still couldn't afford to attend RCN Congress last year - I was gutted about that, especially when they all came back with their badges marking 50 years of RCN Students.
I saw the difference between my March and the September intake that year; it was very striking. The mature students have disappeared.

I became more involved in the Fund Our Future campaign, and that's how I got an invitation to lobby MPs in Westminster on the need for proper student nurse funding.
I resisted being a nursing student for ages because of the money… and now they've made it even less appealing.
The huge amount of debt, the low amount of money to survive on and having to pay for childcare up front and then get refunded is a disaster. It's just stupid.

I'd been in touch with my MP, Roberta Blackman-Wood (Durham), several times before the day of the lobby. Her voting history is pretty good. She spoke briefly at the student funding debate I attended at the House of Commons. I met lots of other MPs, reporters and students from across the UK. The very new-in-post Minister of State for Health Stephen Hammond was at the Parliamentary debate and he seemed to take on board what we said, but the new NHS Ten Year Plan is just not enough. It stops short on some key areas and student nursing barely registers.

In Westminster I saw how little time MPs have to dedicate to any issue at any one minute - so much is going on.
Many just don't understand nursing and the issues we face. It's not just about money, but the lack of respect that is given to nursing and caring in general.
They really need it explaining. The experience of the lobbying day taught me that I have to pick my battles and pitch my arguments to be suitable to the person I'm addressing.
It's helped me to refine my communications.

We have a challenge to make them understand it, because it's vital they do.