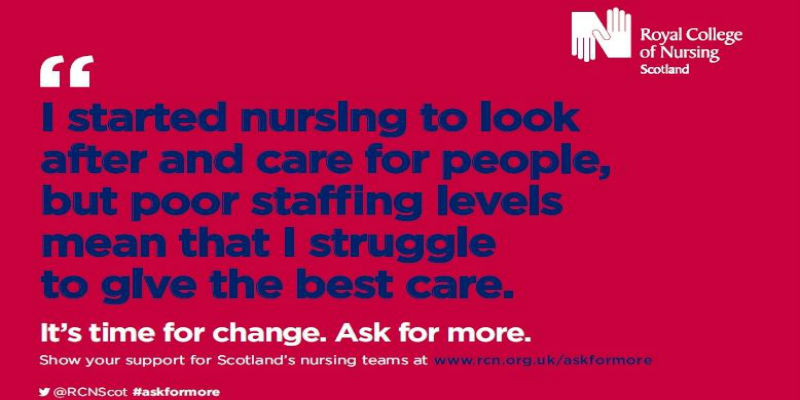 This coming Saturday I'll be in Glasgow city centre, helping to spread the 'Ask for more' campaign message about staffing for safe and effective care.
As a nurse of 30 years, I've seen the increasing impact staff shortages coupled with rapidly increasing demand for services has had on the quality of care we're able to deliver.
I've also seen the crushing impact this has had on staff morale. It's almost beyond a cliché to say staff are burnt out and demoralised, but that doesn't make it any less true.
So, I'm getting out on Saturday because I want to help the general public understand why they should get behind the 'Ask for more' campaign.
As a nurse working on the frontline, I can give a professional and persuasive perspective on how important it is to have the right number of staff with the right skills in the right place is. I can share first-hand experience of the difficulties staff face every single day in trying to provide the care people deserve.
I can also help them begin to understand what the Health and Care (Staffing) (Scotland) Bill needs to do to make a real difference.
It means having the time to spend with patients, to hear their story, listen to their worries, and make them feel safe when they are at their most vulnerable.
But it's also personal. I think of my own family, my elderly mother, and how they, like everyone else, deserve safe, high quality health and care services.
If you're an RCN member reading this, you'll most likely know that it's time for change. And you too could provide a very similar perspective to help members of the public give their support.
So, if you've not already signed up but could spare even an hour or two, join me, fellow members and RCN staff on the streets this Saturday to ask for more!
The 'Ask for more' day of action events are taking place from 10am to 2pm on Saturday 27 October in Glasgow, Edinburgh, Aberdeen Inverness and Dundee.
Sign up now and find out more.