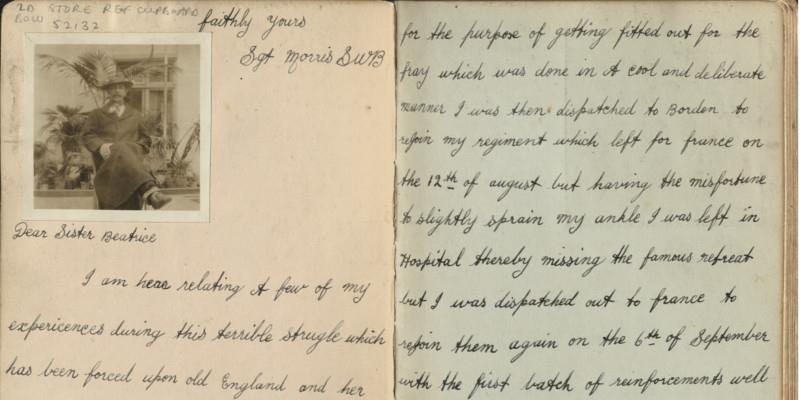 Technology is not really my thing, but history, especially nursing and medical history is. Therefore I am very excited to be involved as a volunteer with the RCN's World War One Service Scrapbook project. Through the course of this project we aim to digitise 10 Nurse's Scrapbooks, putting them online for everyone to see.
Fortunately Molly Fennelly, the volunteer coordinator, was available on my first day to guide me through the use of the Bookeye scanner and provide much needed written instructions to refer to.
Clean hands, no hand cream or nail varnish, I nervously began digitising my first book. I feel very privileged to be handling these expertly restored 100 + year old documents, delicately resting on foam cushions having been removed from their tailor made protective boxes. "My" book belonged to J Beatrice Bowman who was a sister at the American Women's War Hospital in Paignton, Devon. Miss Bowman had the foresight to invite her young patients to write down their experiences in the trenches. It is very tempting to read as you scan, but with so much to get through that has to wait until the transcribing stage.
The small autograph book is scanned literally cover to cover so that the true appearance of the book is preserved. Folded documents are scanned both folded and opened and this can be tricky. Other challenges are pieces written in pencil and pages where words are written right to the page edges. Several images are discarded as I have missed parts, or taken excellent images of my fingernails as well as the page. A very handy, (or rather essential) foot pedal is used to save the satisfactory images for future checking, rescanning if necessary, cataloguing and then transcribing.
Molly is always on hand for queries, which is much appreciated as there are plenty. On my most recent visit I was able to transcribe some of the pages I had previously scanned. They are amazing, and incredibly moving. Such bravery considered as normal everyday life in the trenches. Very much looking forward to my next visit.
Kate Regan