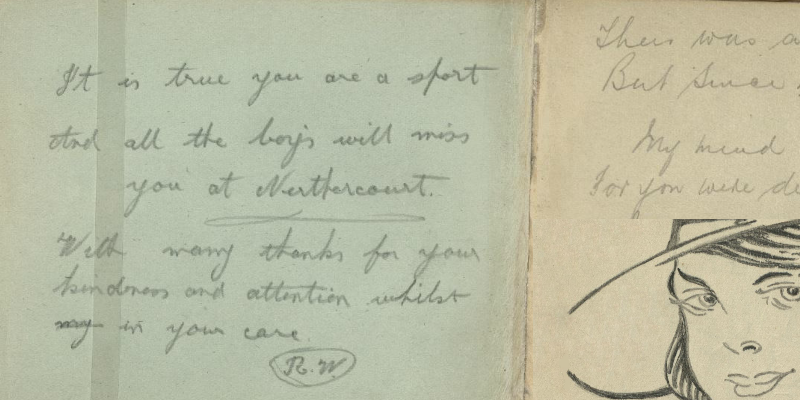 Planning for our new exhibition on the history of emotions in nursing is gathering speed. We are seeing some exciting plans from our exhibition designers and are shaping the themes as we speak.
We are looking for donations of greetings cards between nurses, patients and their families to include in the final display. Cards are regularly received on hospital wards and care facilities, from those of gratitude and thanks, to sadness and sympathy. We have cards, notes and letters in our archive, such as those between soldiers and nurses during the First World War. We are collecting contemporary examples too, as often seen displayed in hospital staff rooms and wards.
The cards we collect will be mounted in the RCN Library and Heritage Centre upon entry to the new exhibition. They will form a reflective introductory space, showcasing a range of emotions detailed in the writing of health care staff and patients.
We would like your help to gather as many as we can. Often, after a period of displaying a card on a ward, it can feel sad to throw it away. Instead, we are asking RCN staff and members to send them to us at the RCN Library and Heritage Centre.
We will not be able to accept cards that contain full names or addresses, as recipients and senders will need to remain anonymous. We can accept cards with first names only, or details that are easy for us to cover up.
We will be collecting cards throughout the summer, and ask that all cards are sent in by the end of September.
Cards can be sent by post to: Events and Exhibitions, Room M02 RCN Library and Heritage Centre 20 Cavendish Square London W1G 0RN
If you have any questions about this call out or the exhibition, please do get in touch rcn.library@rcn.org.uk
You can read more about the wider project here, and take a look at our blog on the history of emotions. The exhibition will launch at the RCN Library and Heritage Centre in London in January 2020. Keep an eye on our website as we update it with more information.
Please note
We are unable to return any cards. If a card you have received is important to you, please do not send it to us! We ask that you secure permission from any relevant people before sending cards to us. We will use as many cards as we can in our final display, but cannot guarantee that everything will be included. We will dispose of any that are not used, including cards that contain information that can identify individuals. After the exhibition closes, all cards will be disposed of and will not be retained in the RCN Archive.