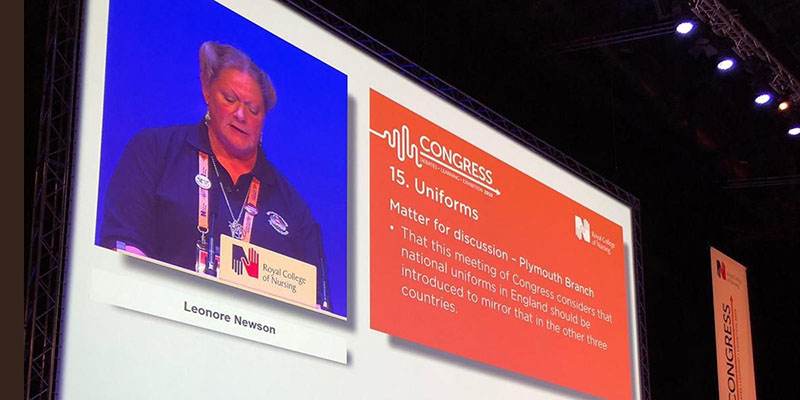 We had an emotional morning of debates. The resolution on child poverty was both shocking and emotional; impassioned speakers and harrowing story's had congress including me quite tearful and the resolution passed resoundingly. Several of our South West members spoke about their experiences.

Bullying was another difficult subject on the agenda and one that touches us all; judging by the amount wanting to speak on the subject it is sadly still a major problem.

We had then moved to the item on period poverty which evoked many impassioned pleas to Government to halt the 'tax' on people who bleed.

Our last speaker of the morning was a key note address from Tom Ray and his wife Nic. Sepsis left Tom a quadruple amputee following a delay in diagnosis and the couple talked about the impact on their family. Tom and Nic were joined on stage by clinician Pippa Bagnell. Everyone in the room found their presentation emotional but enlightening. Their family's story is the basis of the film Starfish and I think everyone will be rushing to watch it as soon as possible. I found the couple truly inspirational and proof of the amazing power of love.

The afternoon debate moved immediately to sepsis before Leonore Newson from the Plymouth Branch gave an excellent introduction to a matter for discussion on uniforms which sparked much debate.

What a day!
Into the evening and our gala dinner with a great band; social networking and fun which was much needed after such an emotionally draining day. It was a great night and it was so lovely to meet up with so many members.

I have to say again, well done everyone from the South West region, they have contributed so much to RCN Congress, I have been so proud to be your Council member during this week. Special thanks to Vicky Brotherton who has been volunteering as a Congress ambassador supporting delegates at the venue also mention for our Lindsay Cardwell and the Nursing Support Workers Committee who have been absolutely fabulous.

You can watch recordings of all of the debates (go into the item and there is a 'watch' tab at the top of it).