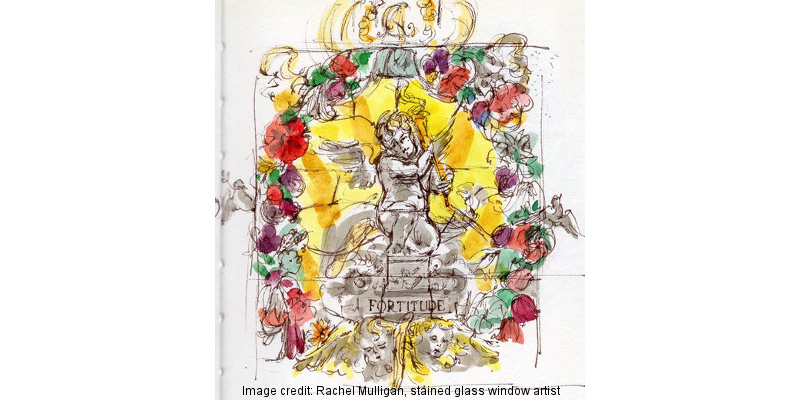 The above stained glass windows located at RCN headquarters in London date from the 1920s, and demonstrate what were considered the chief virtues of nursing at that time – faith, fortitude and love. We're looking at how this has changed right up to the present day, exploring the role of these virtues alongside the full range of emotions associated with nursing today, from compassion to anger, sadness to resilience, fear to kindness and respect.
You can help us and get involved in the exhibition by telling us about any nursing stories, objects or items you have which relate to these emotions. Your examples might be historic, recent, serious or funny, and you don't have to be a nurse yourself to contribute!
Get in touch on Twitter
@RCNLibraries
#wecare
or by emailing us at
rcn.library@rcn.org.uk
.
Below are some ideas to get you thinking, but there are no limits as to what your stories or examples may include!
Pink underwear was an object that sprang to mind in Pamela Clewett's memoirs of working as a nurse probationer at St. George's Hospital in the 1940s. She wrote that "Matron Hanks was a strong spiritualist and firmly believed there was a green light over St George's which would keep us safe. She also liked her nurses to wear pink underwear as she said it radiated happiness and from time to time if you had occasion to go to her office she would ask if you were doing so."
Edith Cavell trained as a nurse in the late 1890s, and in 1907 became the founding matron of The Berkendael Medical Institute – a hospital in Belgium. In 1914 when the First World War broke out, she treated soldiers regardless of their nationality, as well as smuggling hundreds of British and Allied soldiers to the neutral Netherlands. As a result of her efforts, she was found guilty of treason by German officials and sentenced to death by firing squad in 1915. Edith Cavell became famous in her own time through British propaganda and has been commemorated in numerous ways, notably by her statue in St. Martin's Place in London which records 'fortitude' as one of her principle attributes.
There are many accounts of frightening ghost stories experienced by nurses in the historic journals collections held at the RCN Library. The British Journal of nursing reports how in 1923, Rochford Union Infirmary received numerous ghostly visitations from a 'Nurse Matilda' dressed in Victorian nursing costume and striking terror into the 25 nurses who worked there. A few weeks later however, when the "spectral night sister" was challenged attempting to enter the building through a window, it was revealed that she was a "very substantial and quite unghostlike male attendant". Unfortunately for him the hospital Board took a dim view of the anxiety created among the nurses, and he was dismissed.
We will be collecting responses until the 15th March 2019 – please get in touch with us via email or Twitter if you have any questions.