I spoke with Ann Donkin, the interim director of the Buckinghamshire, Oxfordshire and Berkshire West STP who shared her reflections on how their STP plans were progressing. Ann was very candid with her views about the issues facing the STP- not least a lack of front line engagement with plans and the differing views of the trust CEOs involved. And no wonder when you look at the huge number of organisations involved with BOB: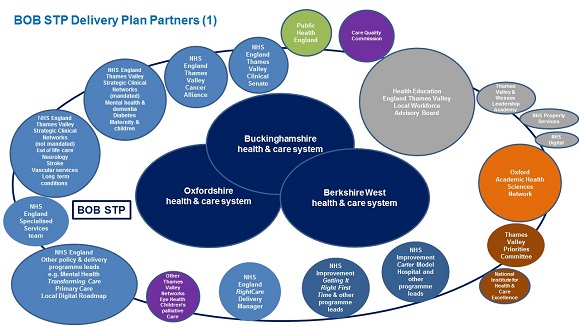 The STP is not getting the engagement from Oxford University Hospitals needed. Their international work and strong university links make it difficult for them to become fully engaged in ACS as the two other systems within the STP are planning.
It was interesting to note that while it was acknowledged that workforce planning was essential to an STP's success, Ann was surprised and puzzled to hear our members experiences of trying to access flexible working – a band 5 nurse doesn't have the luxury of being able to access the flexible working that those elsewhere in the NHS may enjoy.
There was some positivity in that Buckinghamshire, as an ACS and the way they were conducting themselves was good.
It is fantastic that we are able to have such useful conversations with some STP leaders. Ann was very clear in her vision and very open to having positive constructive conversations with us and for that, we thank her.
More information about BOB can be found on the website: https://bobstp.org.uk/