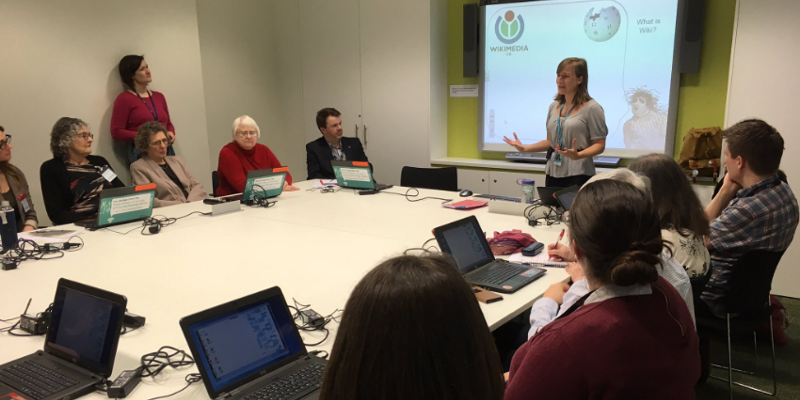 The RCN's history is filled with inspirational women. But despite their achievements and the importance they hold for nursing, most of these women are missing from one of the key places that people seek information: Wikipedia. Wikipedia has what's known as a "gender gap", meaning that women are underrepresented (only about 17% of Wikipedia biographies are about women) and this includes important women of the RCN: for instance, out of 36 RCN Presidents, only 15 had a Wikipedia page, and virtually all of these existing pages were tiny stubs. So on the 15th February, we set out to change that!
We began the day with some inspiration in the form of a showcase of RCN Archive treasures and a talk by current RCN President Cecilia Anim. Then we began the afternoon with an introduction to projects like Wikiproject Women in Red, which aims to improve the coverage of women on Wikipedia, and an introduction to editing. All but 3 of the day's 18 participants were new to Wikipedia, but they picked up the skills really quickly – it's surprisingly simple to edit a page.
Pages have already been published for Cecilia Anim, and the RCN's first ever Secretary, Mary Snell Rundle, and pages for Annie Warren Gill, Florence Udell, Sarah Swift and long-serving General Secretary Catherine Hall have all been improved too – take a look at them! The newly trained editors also have work-in-progress pages for Miss Frances G. Goodall (O.B.E.), a former Secretary, and Presidents Rachael Cox-Davies, Mary Spearshott, and Dorothy Coode.
There is still more to be done though – if you take a look at the RCN Wikipedia page today, you'll see warnings that more references need adding to make the page more reliable as a source of information. There are also still many past Presidents whose names appear in red, and others whose pages remain stubs that don't do justice to their work. These stubs also often don't connect these women sufficiently with the RCN: Sidney Browne and Theodora Turner's pages have just one sentence each mentioning their presidencies, and Turner's simply says she was President of the "RCN" with no full title or wikilink to explain what that means to people (such as Wikipedia's many international users). The pages for Emily Macmanus and Louisa Wilkinson don't even mention their presidencies! This is why we're going to carry on making edits and improvements…
If you'd like to be part of the effort to showcase the history of the RCN and the brilliant people who have helped to shape it over the years, we'd love to hear from you! You might like to create or improve a Wikipedia page: if so, the RCN Library is an amazing resource, and the staff can help you to find materials. To get started with editing you can find a guide on Wikipedia here and an instruction page on how to create a biography here, and I can be contacted at the Wellcome Library if you'd like any help finding resources here or editing Wikipedia. There'll be more wiki-sessions devoted to history of medicine and women in medicine soon, so email me if you'd like information.
Alice White @HistorianAlice Wikimedian in Residence at the Wellcome Library