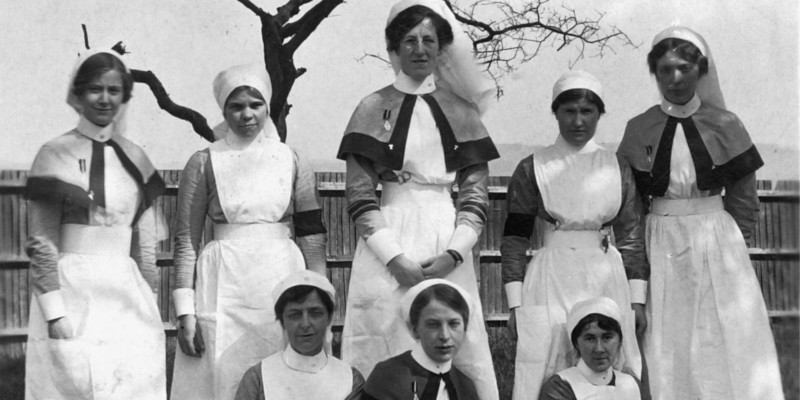 To mark the anniversary of women's suffrage, the RCN Library and Archive Service is taking part in
WomensWork100
, a commemoration of the role women played in the First World War. The series begins on 6 February, to mark 100 years since the Representation of the People Act in 1918. The Act gave some women over 30 and all men over 21 the right to vote. It was the first time women had been able to vote in the United Kingdom.
The RCN was at that time a very new organisation made up solely of women; men could not join until 1960. Some of these nurses took part in the campaigns for suffrage. Evelyn Clemow,
whose personal papers are held in the RCN Archive
, worked in the Women's Hospital Corps and then at the all-female Endell Street Military Hospital, where she was involved in the Women's Suffrage Movement.
RCN benefactor Lady Cowdray
was a member of the Women's Social and Political Union (WSPU), the most prominent militant organisation campaigning for women's suffrage. In September 1911 she even held a reception for Emmeline Pankhurst at her estate in Scotland.
The WomensWork100 series runs until International Women's Day on 8 March 2018. It will explore the breadth of women's roles in the First World War – from factories and hospitals to homes and churches, representing their political activism, front-line service and home front experiences, against the backdrop of the suffrage movement and greater prominence of women in public life.
Nursing was a vital part of this change. Many women were already working in the sector before the war: 77,060 women were listed as nurses in the 1911 census. However the increased need for nursing care in the war encouraged more women to train as nurses, as well as tens of thousands to volunteer to assist nurses in the Voluntary Aid Detachments (VADs). Our Family History Day on Saturday 10 February explores the First World War history of nursing, while on International Women's Day we look at women writers in healthcare at an event in Cardiff.
Find out more and book online here
.