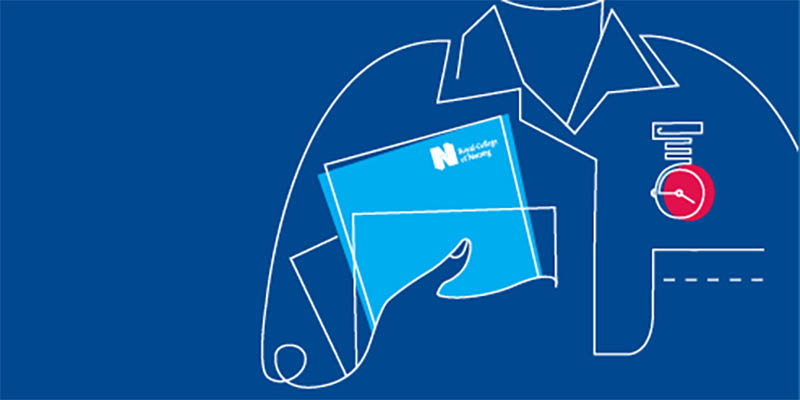 I'm enjoying my course. I'm coming towards the end of my second year studying Adult Nursing at Teesside University. It's great being back where I come from in Newcastle. It's lovely living with my family. Being a student in London is so expensive.
I think the best thing about the course is how far you push yourself without even realising it. You're constantly testing your ability to deal with events and remember what you've learnt. It gives you a great sense of teamwork and being a nursing student also pushes you to have a natural instinct to deal with a lot of different things.
The worst thing is probably the hours and how exhausting it can be – it does still take its toll on you. Eventually you hit a point when you're glad you have two weeks off because you seriously need to sleep!
The academic side of things can be a bit stressful too. The portfolios we do on placement are less stressful than writing essays.
My most interesting experience as a nursing student so far was the first day I was on a new ward placement. Just as we'd started the meds round we suddenly had two cardiac arrests at opposite ends of the ward. I was quite overwhelmed watching it all unfold. I wasn't directly involved; I had to continue looking after my patients. It was all dealt with appropriately but it's definitely stuck with me.
Because I went on to do the BSc in nursing rather than the postgraduate degree I thought I wouldn't get funding, but it turned out I was eligible and Student Finance have provided me with support. They've paid my fees and I get a lesser amount than I did for my first degree. I'll have to pay it all back though so from what I've heard bursaries were definitely a better way of doing things.
Being a nurse is all about building on teamwork, I'm very much about that. When you see how the nurse fits into what the multidisciplinary team have to do, it's really interesting to see how you're a cog in a well-oiled machine. The reason I'm so big on teamwork is because of how emotionally challenging nursing can be so if you have a big support network it helps and makes dealing with the different demands of the job easier if you feel you have that support in place, whether as a student or a qualified member of staff.
If you've had have a difficult day it's good to be able to call on your peer group. I've come across so many different things on my various placements it's good to have some support. So far I've been on a medical ward, a surgical ward, a critical care intensive care unit (ITU), the mental health spoke, the learning disability spoke, and the paediatric spoke.

I think it's a bit early to say what area of nursing I'd like to go into but I did love the critical care placement. I've actually loved every placement I've been on.
My advice for anyone thinking of coming into nursing would be if you choose it you really have to love it and you probably will. Nursing is unlike anything else.
If you're already studying to be a nurse, my advice would be please don't stress as much as you do because you don't need to. Enjoy it, because it flies by.