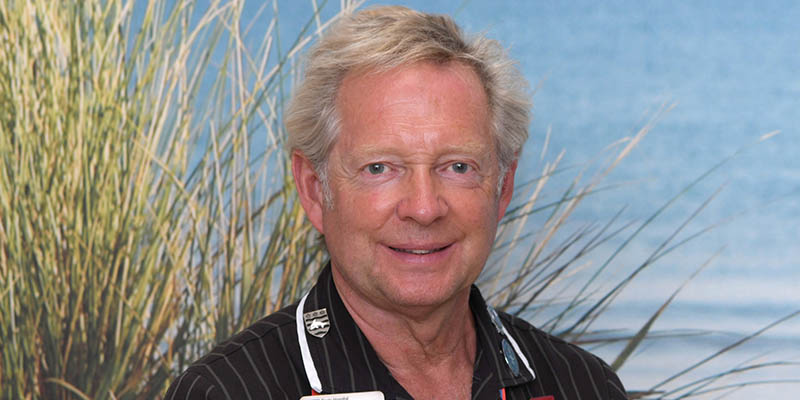 I am always interested to know about other people's lives so thought I would start by telling you about mine.

I am matron for specialist medicine, cardiology, ambulatory care and specialist nursing services at University Hospitals Dorset Foundation NHS Trust at the Poole site. I manage in the region of 250 and 300 staff and am clinically responsible and lead 15 specialist teams across a broad range of services. To give you an idea of the diversity of these services, this includes the acute medical admissions unit, the multiple sclerosis service, fracture liaison and the acute cardiac unit. I was the first matron to be appointed at Poole Hospital and took up my post in December 2004. I am the longest-serving matron here at the Poole site by a country mile. When I started in this role I was determined that I would ensure that I remained as clinically visible as possible and that I would remain in uniform, maintaining a high profile within my departments on a daily basis. Although I am not always able to achieve this, it remains my priority.

I thought I'd give you a flavour of a typical day - so this is Monday 8 February 2021.
5:30am - Arrived at work and visited the acute medical unit to check in with the night shift staff who had experienced a very difficult night and were extremely busy. I also passed through the emergency department as they very often generate the work for the acute medical unit. Having met with the staff I returned to my office, I prepared for the day ahead and looked at the beds available across my services and what staffing deficits (if any) were materialising as the day staff arrived. I then caught up on some administrative work with my PA Tracey and we went through some dictation and planning for the day.
8:00am - Microsoft Teams meeting with the medical division to discuss which beds were available and how our discharges would pan out during the day in order to meet the flow.
8:30am - Returned to the acute medical unit to check in with the day staff and update myself with any potential discharges; this is an extremely busy unit and at this time has multiple specialty medical teams reviewing the patients.
9:00am - Matron group meeting in our boardroom to discuss the staffing across the trust and how we can help and support each other. The COVID-19 pandemic has not only had an impact on our patients but our staffing too. Staff sickness absences can be sudden, and we have had to work together to continue the provision of our services. We work as a team to mix and match our staffing while remaining mindful of staff experience and specialisms and ensuring all our staff are supported.
9:30am – Infection control audit on the acute medical unit, acute cardiac unit and the neurology rehabilitation ward which has been closed due to COVID-19 and we are undertaking a cleaning programme ready to reopen.
11:00am - Touch base with my PA to pick up messages and work to be caught up on and I also checked my emails. I have a bit of an obsession about emails and ensure they are regularly cleared throughout the day.
11:30am - RCN telephone consultation with an RCN member in my role as RCN Steward. This call was to keep in touch and check how they were doing.
12:00pm - Administration work.
12:30pm: MTeams meeting with the staff partnership Joint Chair (I am the other Joint Chair) and the Director of Human Resources to discuss the current issues.
1:00pm: Met with one of the management secretaries whose friend had donated some money following an in-stay in the acute cardiac unit. This money will be used to provide Costa Coffee for staff and we met outside our in-house Costa to discuss how we could distribute this money using vouchers.
1:30pm - MTeams meeting with the Deputy Director of Nursing to discuss the red flag and staffing escalation protocol which we have been working on.
2:00pm - Attended the afternoon staffing meeting to identify staff deficits and prepare for the night shift.
2:30pm – Visited the acute medical unit again to get an update on their day and I also called in on Portland ward to check that the cleaning programme was continuing as planned.
3:00pm - Another MTeams meeting to discuss the latest bed situation within the division.
3:30pm – I did a final roundup of areas, checking any agency staffing needs.
4:30pm - Finished for the day.
This is a fairly typical day, lots of variety and challenge. I enjoy my job immensely. I like to spend as much time as possible visiting the areas I am responsible for to talk with as many staff and patients as I can. I firmly believe that the most precious asset the hospital has is the staff. If we have an empowered, informed and supported workforce then we will deliver high quality care to the people who need our services.

I'd like to pass on my thanks to every one of our members who I know are working so hard to support patient care. This pandemic has knocked us all and it has been a very challenging time – one that no one could have prepared for. One thing is certain, in my view, we are meeting this challenge head on, to the benefit of all concerned and we should be very proud of the work we all undertake on a daily basis. I am incredibly sad that so many of our colleagues have died during the pandemic and will always remember them.

I hope my day is interesting to you – let me know about yours!

Geoffrey