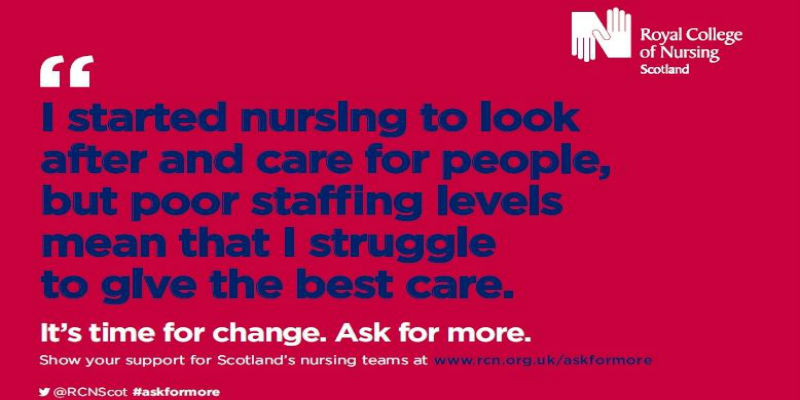 I'm really passionate about nursing and helping to make sure that we all get to give high quality care safely and effectively. It's what patients and the public deserve. And it's definitely an issue for everyone, whatever level we work at - managers, nurses, health care support workers and other staff in health and care.
That's why the RCN's 'Ask for more' campaign struck such a chord with me. I got involved because I work on the forefront in acute care and see the negative effects of staff shortages at close-hand every day. But through the campaign I've realised it's much the same whichever setting you work in – hospital or community or care home. We all just always seem to be short-staffed.
Research provides very compelling evidence that having the right number of registered nurses in the right place increases patient safety, improves patient outcomes and is cost effective. On the other hand, inadequate staffing increases the risk of burnout, high turnover rates and high levels of sickness absence, which has a direct impact on the staff who have to take on extra workload.
I am excited to be part of this campaign and to continue fighting to have legislation on staffing levels in place, which is also monitored to ensure it is implemented in the right way. That's why I'm urging all my colleagues, friends and family to get involved.
There's still time to email your MSP, ahead of the debate on Stage 3 amendments to the Bill on Thursday 2 May. Make sure your representatives in the Scottish Parliament know how important it is they take part in this debate and in the final vote vote next week to make sure key amendments to the Bill are retained, particularly on senior charge nurses being non-caseload holding and protected time for CPD.
Nurses are the voices for the patients and we have to continue to fight for safe patient limits to save lives - what we do matters.
Find out more about the Ask for more campaign