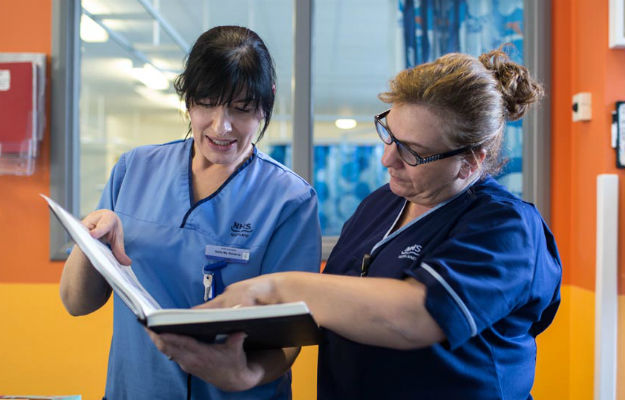 The Health and Care (Staffing) (Scotland) Bill is being debated at the Scottish Parliament. The Bill aims to ensure safe and appropriate staffing levels using clear, through the use of evidence-based methodologies.
Providing safe, high quality care is at the very heart of nursing. As a Senior Charge Nurse (SCN) I know that I have a central role to play in ensuring that patients gets the very best care.
The role of a SCN is multifaceted. That's why it's such a challenging career, but also why it can be so rewarding. Each SCN role can vary with the NHS board; clinical area and size of the department. But there are some fundamentals which are part and parcel of every SCN role.
The very first of those is ensuring safe and effective nursing practice throughout the team. This means making sure that practice is evidenced based and consistent.
SCN's are also key to enhancing patient experience and making care as patient-centred as it can be.
As managers, SCNs also need to manage their team effectively and develop the team's performance; through, for example, facilitating learning and development like CPD. And SCNs also have a contribution to make in working effectively towards NHS boards meeting their local aims and national objectives like HEAT targets. SCNs should, for example, have a pivotal role in service development.
If the Health and Care (Staffing) (Scotland) Bill becomes law, then the role of SCNs will be brought under the spotlight. The role is central to the constant monitoring, assessing and mitigating of risks around staffing, and therefore the provision of safe, high quality patient care.
Part of the RCN's 'Ask for more' campaign is a call to make SCNs and their equivalent in the community non-caseload holding.
This is crucial if SCNs are to have the time they need to provide sufficient oversight in their area. Each SCN must have an awareness and knowledge of all patients within their area – something which is incredibly difficult to achieve when you have a direct caseload yourself. SCNs can also spent a significant portion of time problem solving and troubleshooting which is virtually impossible to do effectively when you have a direct caseload of patients.
Making SCNs non-caseload holding provides the flexibility which these nurse leaders need. It would also allow SCNs to have the visibility and accessibility they need for patients and their families – something which is difficult to make the space for when you have to lead a team and are directly caring for a group of patients.
SCNs also have a central role to play in mentoring the nursing staff in their teams, and carrying out the non-clinical aspects of the role. Things like rostering, absence management, infection control, budget monitoring and stock management are all part and parcel of an SCN role.
The role of the SCN is pivotal. Without these individuals patient care can suffer. That's why as a SCN I'm backing the 'Ask for more' campaign's call to make SCNs and their equivalents in community teams non-caseload holding.
If you agree with me that it's time to see non-caseload holding SCNs then
add your support
to the campaign.