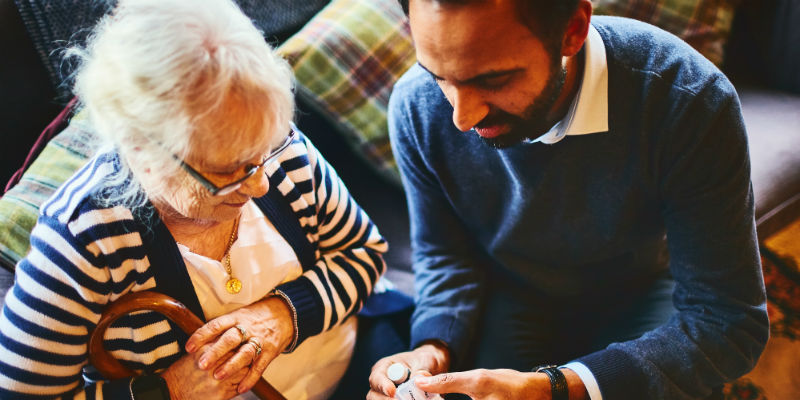 Across care homes we are increasingly required to develop the clinical skills to provide treatment that previously would have seen the involvement of Community and District Nurses. From catheterisation and venepuncture, to the use of syringe pumps, to name but a few we have been given the opportunity to fully develop within our role.

The care home environment has also become one of high-tech devices, but all with a purpose and aim of ensuring a better, safer standard of care for residents, increased accountability, and better systems for reviewing and auditing our daily practice.

During the pandemic, we have adapted to a different way of communication, with care reviews completed via video calls, GP reviews via telephone and supporting our residents to use technology. At times this has been difficult, but for care home nurses, we are extremely adaptable, and this has quickly become the "new norm".

Many of these systems can bring increased workload demand during implementation and integration but have shown to be extremely innovative.

This is all part of your learning and development as a care home nurse. As soon as you take up this position, be prepared for these opportunities, from gaining competency in a vast number of clinical skills to further qualifications, and promotions. Positions in care homes for Registered Nurses are increasingly becoming more specialist, with the introduction of Practice Development Nurses, Advanced Nurse Practitioners, Occupational Health Nurses and Dementia Nurse Consultants, it is an exciting time to work within the Independent Sector.

Covid-19 has also brought with it a whole new host of learning, testing, restrictions, new infection prevention and control procedures, as well as adapting to new ways to make sure residents have been able to maintain regular contact with their families. This increased workload and demand has been managed within the same care team numbers and whilst maintaining the highest standard of care rightly deserved by our residents.

The impact on our profession has been immense and as leaders we have had to maintain a positive mindset to keep the care team's momentum during extremely difficult and challenging times. We have needed to utilise our skills of reflection to identify when we need further support for our own mental wellbeing as well as introducing mindfulness practices and positivity to our teams to support them through the stress of this pandemic.

We have seen ourselves and our colleagues being confirmed covid-19 positive and had to implement outbreak control measures to prevent the spread of the virus, it's during these times we have seen our teams go above and beyond.

Overall, the role of the care home nurse is very much a contradictory to the stereotypes. Covid-19 has brought with it new pressures for all sectors, but as a care home nurses, we are resilient, highly skilled, and passionate about continuing to provide the highest standard of innovative, holistic, person and relationship centred care to our residents. We need to have nurses who are willing and ready to join a sector full of learning opportunities, challenges and rewards.

We need to continue to have innovative leaders to join us and support the continuous workload demand of the care home nurse. Without these nurses, we will struggle to maintain safe staffing levels and we will see a sector that will begin to crumble under the strain. Scotland needs our independent sector to flourish, to enable the support desperately needed by the public sector, and to continually provide a unique service to our incredible residents, clients, service users and their families.

The creation of a National Care Service is another change which nurses in care homes will have to adapt to. As resilient, highly skilled professionals, we will rise to this challenge but the opportunity cannot be missed to make sure that staffing levels are improved and the sector is better able to recruit and retain the nurses it needs.
Find out more about the RCN work on the national care service consultation and how you can get involved