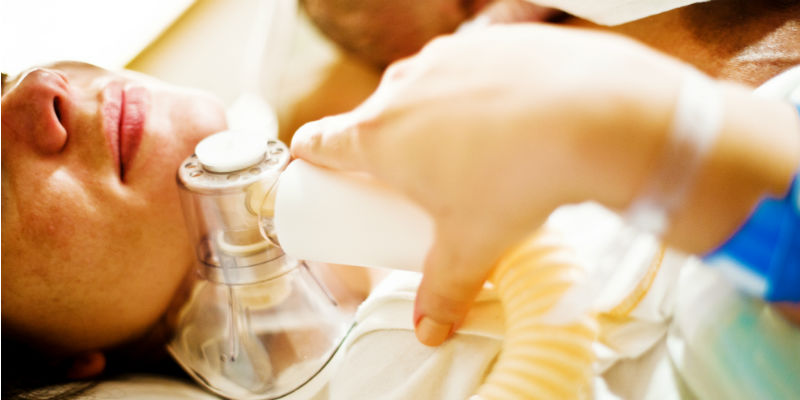 For the UK, climate change will bring more heatwaves, worse air pollution, water shortages and more severe weather events. But as global citizens, we will also feel the impacts of global climate collapse; worsening food insecurity; cities becoming uninhabitable, resulting mass migration.
Carbon dioxide, released by burning fossil fuels, captures heat from the sun and keeps it in the atmosphere, acting like a blanket insulating the earth. The NHS has a huge carbon footprint, accounting for around 40% of all public-sector carbon emissions. This is from the products we use, the energy we use to heat and operate our buildings and how we travel to deliver health care. But it's not only carbon dioxide which has this impact, many of the anaesthetic gases we use regularly are also potent greenhouse gases.
In May this year members submitted an emergency motion at RCN Congress highlighting the health response needed to tackle climate change. Congress voted that RCN Council should acknowledge the climate emergency declared by Parliament on 1 May and should lobby health care providers to develop policies and strategies which are sustainable.
Cutting NHS emissions
The NHS Long Term Plan commits to a 57% reduction in CO2 emissions by 2028/29 by making health care more sustainable, cutting waste and reducing emissions. Certain parts of the health care system contribute disproportionately large amounts to the NHS carbon footprint. In particular, anaesthetic gases such as nitrous oxide and Desflurane used in surgery make a notable contribution to climate change. In 2017 this was estimated as equivalent to 470,000 tonnes of carbon dioxide per year - about the same as the annual commuting of all 1.3 million NHS staff.
Nitrous oxide makes up around 78% of the climate change impact and fluorinated gases, used as anaesthesia in surgery, make up the rest. Nitrous oxide has a global warming potential around 300 times that of CO2. The nitrous oxide used by women today during labour will remain in the atmosphere for more than 100 years, throughout the lifetime of the babies being born.
The NHS Long Term Plan commits to almost halve the impacts of anaesthetic gases by 2028/29. The Sustainable Development Unit (SDU) for the NHS, public health and social care has the responsibility for delivering these commitments. The SDU is a part of the NHS England national team, and is co-funded by Public Health England. It is also working closely with the Association of Anaesthetists to determine how best to deliver this target.
In maternity settings, the main use of anaesthetic gases is through Entonox (nitrous oxide and oxygen) as pain relief in labour. Around three quarters of women use gas and air in labour, with maternity making up around a third of all NHS nitrous oxide emissions in England. The challenge is how to reduce the amount of nitrous oxide used in labour, without adversely impacting on childbearing women and their choices.
Pain relief alternatives during labour
The RCN Midwifery Forum is working with the Sustainable Development Unit and Association of Anaesthetists to look at the particular issues around use of anaesthetic gases in maternity settings. We will be working with a range of maternity professionals and service users to pool our knowledge and skills, and come up with ideas and options to reduce the use of Entonox.
In the first instance there would seem to be a need to raise professional and service user awareness of the environmental issues with nitrous oxide and what alternative or mitigation measures might be available. There has been very limited profile given as yet to the environmental damage from releasing this gas into the atmosphere. Lack of awareness could mean that Entonox is over used, inadvertently vented, or cylinders returned part full to the supplier. There may be appropriate options to improve access to non-pharmacological pain relief, such as use of water in labour. Greater awareness of the impact of nitrous oxide could increase the popularity of these options.
There are also well documented health impacts of long term occupation of exposure to nitrous oxide, including impact on fertility and B12 deficiency. We may be able to help address that at the same time as benefiting the environment.
With a need to address our carbon emissions more pressing than ever, there is a unique and previously under-reported opportunity for midwifery and other professionals working in the maternity setting to engage with this as part of clinical practice. Our role in welcoming the next generation into this world highlights the need to consider the longer-term impacts of today's activities on tomorrow's maternal and child health.