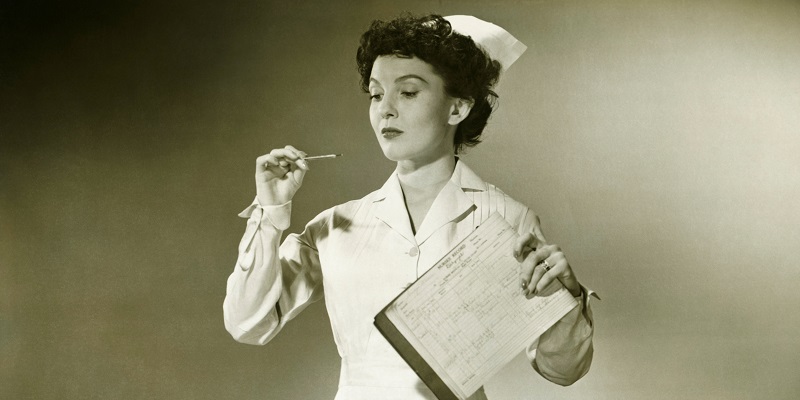 Nurses embody the contradictions of women and power – both literally and symbolically, through their image and the details of their uniform.
While each of these portraits is a study in power, none of them are necessarily positive.
If anything, they can be read as misogynistic. After all, they all rely upon a male figure – a patient or a doctor – for their potency.
Perhaps there is something deeply ambivalent about nurses' and, hence, women's relationship to power, which is woven into the fabric of their uniforms and the twin traditions of religion and the military, to which they owe their roots?
Religious iconography symbolises compassion – the military screams discipline. Both are taken to extreme forms in screen representations designed to create humour or to stress control.
The sexy nurse, with her tight, short and revealing uniform plays off against modest religious dress, traces of which can be found in uniform of yesteryear – the veil-like head gear and hats.
Military links are, perhaps, more evident, through lapels, belts, buckles and regimental hemlines.
Significantly, too, when nursing began to emerge as a profession in the early 20th century, advertisements for uniforms presented the nurse as an emblem of modernity – smart, efficient and svelte – a symbol of female independence, very much á la mode and in-tune with the latest fashion.
In 2019, modern day health care demands multi-professional working and, these days, nurses and doctors in hospitals don scrubs and have stethoscopes swinging round their necks.
But if uniform remains an index for women and power, perhaps we need to reclaim this power by thinking more carefully about our own image?
Professor
Anne Marie Rafferty was speaking at a London Fashion Week event on women and power that took place to mark International Women's Day 2019.