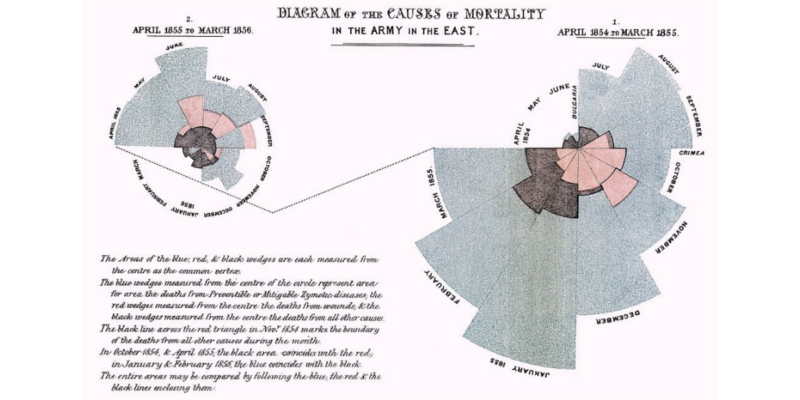 Florence Nightingale is perhaps best known for her nursing work in the Crimean War, but she was also a pioneering statistician, who used infographics to illustrate the urgent need for public health reform. The use of statistics is commonplace today but it was a new and popular science in the early 19th century. Florence was a passionate devotee, often preferring in her youth, a book of statistical tables to a novel.

She challenged prevailing views in the field of mathematics and statistics from an early age. Though her father instilled in her his own love of maths, both her parents discouraged further study, deeming subjects such as history and philosophy to be more 'appropriate' for a woman. Florence persuaded her parents otherwise, later receiving maths tuition.

During her career, Nightingale often used infographics to highlight statistical data. Her 'Diagram of the Causes of Mortality in the Army in the East' of 1858 (pictured), which has become known as the 'rose diagram', is a form of pie chart equivalent to the modern circular histogram. It illustrated that the number of deaths from poor sanitation (shown in blue) in the Crimean War was far higher than those resulting from battle and other causes (red/black). Consequent improvements in sanitation directed by Nightingale during the Crimean War reduced the mortality rate from 42% to 2%.

After the Crimean War, Nightingale did further research into the health of British soldiers in peacetime. Shockingly, it was discovered that the mortality rate of soldiers living in barracks was twice as high as that of civilian men of corresponding age. There followed a Royal Commission on the health of the army.

Nightingale realised that poor sanitation had resulted in the loss of life on a massive scale. Her passion for reform drove her to discover new and accessible ways to present data in a bid to influence those in power to drive through change. Her work in this area led to vast improvements in public health in England and her statistical studies of sanitation in the rural life of India led to transformations in the health of the region.

Nightingale was elected the first female member of the Statistical Society in 1858 and made an honorary foreign member of the American Statistical Association in 1874.

To this day, nurses use statistics to inform evidence-based practice. You can find a wealth of resources on these subjects at RCN Libraries, and for those wishing to find out more about Nightingale's life and work, we hold biographies, texts of her writings, and original items from her personal library, including a copy of her bible, complete with annotations.

At RCN Libraries we also ensure we provide the best and most useful resources to inform your nursing work by closely monitoring usage of our resources using statistics - we hope Florence would be proud!