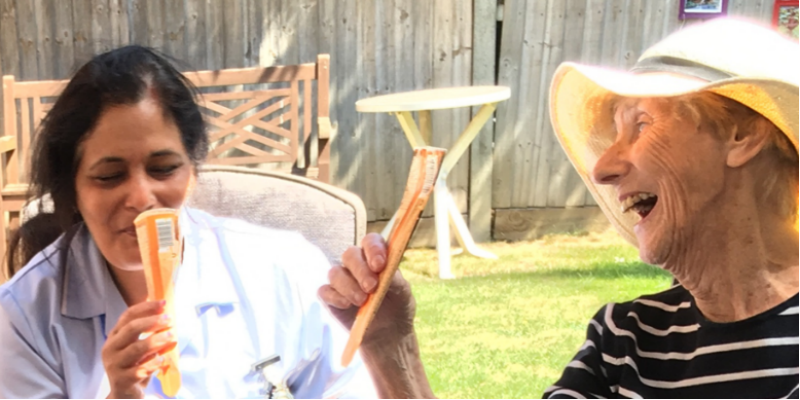 Avoidable emergency hospital admissions from care homes are regularly reported in the media.
However, what's often missing from these reports is how the patient felt at the time.
Was it confusing for them; frightening or downright disheartening?
Last week, I spent some time visiting care homes where nursing staff take a proactive approach to preventing urinary tract infections by supporting residents to drink more fluids.
It's part of an initiative by East Berkshire CCG.
Urinary tract infections are the diagnosis of default for many care home-related hospital admissions and it's how many antibiotics are prescribed too.
Staff at Oxford House Nursing Home have recently stopped "dipsticking", the unnecessary process of analysing a resident's urine and have instead introduced hydration rounds seven times a day.
These simple changes have had a significant impact on the residents' health.
What was most heartening about life in the home was the meticulous audit data the team carry out. Data included the number of residents with urinary tract infections on antibiotics; and those admitted to hospital before the new drink rounds were introduced, allowing them to accurately report on the effectiveness of the new initiatives.
As a College, we've championed the need for nursing staff to have easy access to drinks while on shift.
The home has a wide variety of beverages on offer for its residents.
The drinks trolley has also encouraged the uptake of snacks such as fruit and biscuits, which are offered alongside it. The trolley offers seasonal reminders for residents – including, most recently, spooky Halloween!
Staff were offered ice lollies in the summer to sit and enjoy with the residents and, moving forward, staff are encouraged to sit and drink with their patients too.
The data showed real success – a sustained and dramatic reduction in both antibiotic prescribing and hospital admission for urinary tract infections.
Not only have staff at Oxford House Nursing Home demonstrated the fundamentals of good nursing care, but they have the data to prove it!
They are passionate about the care they give and will continue to champion excellence in all they do.