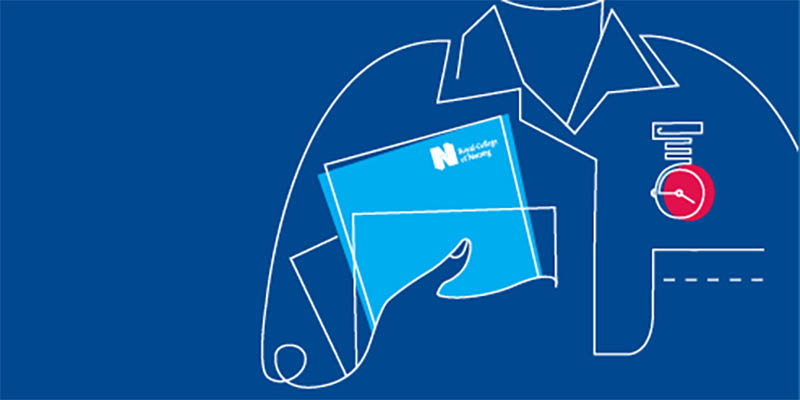 I love nursing and I feel really strongly about the profession, so when I saw the seat come up I just went for it and getting it was a lovely surprise. I'm in regular communication with my fellow committee members already on a WhatsApp group and they're all very supportive; I feel like I can ask them anything and they'll help me.

I've just finished a placement in a nursing home and the effect of the pandemic was a bit more obvious there than in my other placements, particularly due to the restrictions on visitors. This is taking a big toll on residents, which was really sad to see.

Although everyone has found COVID-19 difficult, I'm quite lucky as I'm not in a vulnerable group; when you see people who are extremely vulnerable it is really hard to see. The residents on my placement were allowed one visitor a week for half an hour as opposed to open visiting which was the system that was in place before. The placement was a dementia and end of life home - I lost my nan in March after she'd had dementia for quite a long time, so it was quite nice to do the placement when I did as it felt a bit like closure. I know what it's like to have to have a family member in a home and so it was good to see it from the other side. All the staff I worked with were lovely.

I've always known I wanted to be a nurse. I have a drawing from when I was three of me as a nurse which says 'I'm going to be a nurse' on it.

Then for the first part of my nan's illness I was her carer and being with her and her experience of dementia inspired me to actually do it.

At the moment I have two weeks off and then I will have another placement for eight weeks. I'm taking it in my stride.

I worked throughout lockdown at Southmead Hospital in Bristol on the bank as an HCA and I work in a care home when I'm at home. I get moved around a bit, once I was booked a shift to go onto a neuro ward but was switched to the respiratory ward where there were COVID-19 patients. It was bit scary at first but I just got on with it and it was ok.
Become a student ambassador
I would encourage all students to become an RCN student ambassador. The South West needs more to help support our student population. It would be lovely to build up connections with students from other universities. I'm at UWE and I'd love to hear what students from other universities have got to say. I think one amazing thing about being an RCN student ambassador is knowing that you are putting forward the student voice and knowing you're contributing to having students in the South West heard is great. We as students are the future of nursing and people don't realise how crucial our voices are. What we have to say is so important and as a student ambassador, you'd be making a huge contribution to that.

I'm paying student fees and, while I have a small bursary to help with living costs this year, I think student nursing definitely needs more funding. Working as a HCA I meet people, many who would be mature students who have the financial aspect to consider. If there was more financial support then more people would be enabled to do their registered nurse training.

The thing I enjoy most about nursing is that I can look after people and make them feel better, helping them and making a difference in their lives.

Caring about people is such an important part of being a nurse. On my first placement in orthopaedics and trauma there was a patient who was on the ward for quite a long time. When she was filling in my feedback questionnaire, she got to the question about whether 'the student has been compassionate' and she told me she didn't know how to answer. I quizzed her about what she meant, and she told me that I was very compassionate but it's not something you can learn.

Sometimes I forget that not everyone is good at nursing, you do have to have the right qualities.