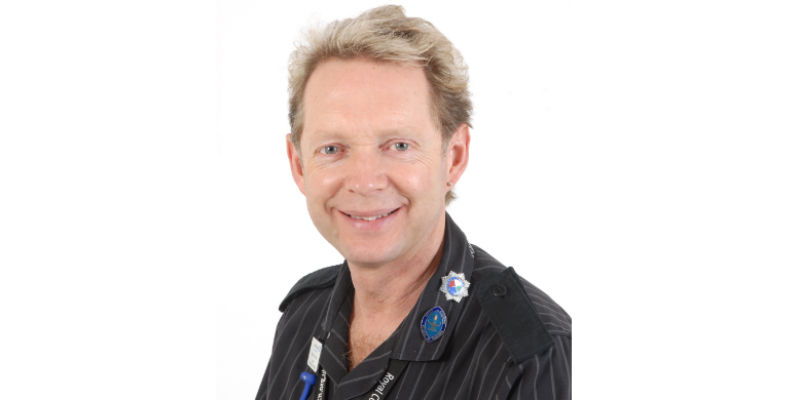 I thought, by way of an introduction, I would tell you a little about myself and I am certain that I will meet many of you in all the areas of the region as I travel around and have the opportunity to meet with you at our events in the future.
My name is Geoffrey Walker and I have been a nurse for 34 years. I originally trained at the West Cumberland Hospital in Cumbria, qualifying in August 1988; prior to my training I spent 3 years as a Red Cross volunteer within the hospital. On completion of my training I worked within acute medicine and coronary care and in 1990 I moved down to Poole Hospital in Dorset where I have worked ever since. I began my career in cardiology and intensive care and progressed to become Head of Cardiology and then in 2004 was promoted to Matron for Cardiology and Medicine. In 2014 I added Emergency Care to my portfolio. I have been responsible for over 500 staff, 22 departments and a budget of over £25 million, but I still passionately believe in being visible on the floor with the staff and therefore I wear a uniform and meet with staff on a regular basis and help and support clinically when time allows. I think this maintains my credibility and offers the opportunity to meet staff and understand what is happening within nursing at a grass roots level.
I am a passionate believer in education and was extremely disappointed when the bursary was withdrawn; this is something I would like to see the RCN fight continually for reinstatement. Why on earth, when there is a shortage of nurses, would we remove a bursary and ask people to pay to complete their training? I know there are a number of alternative routes available, but I feel this is fundamental to returning the bursary to nursing for training.
I believe that patient care is of paramount importance, whoever is ill and in need of care should receive the very best possible care at all times. Again this is something I feel the RCN should fight for.
The South West region is a very large and diverse region, covering a large number of square miles and I understand what it can be like working in such a region that is difficult to travel across as Cumbria is also a remote region. However it is my hope and intention to make sure that the voice of the South West is heard, that we support South West members and we look to see what we can achieve as a region to drive change rather than to be a part of change. With this in mind I will continue to comment on
my Twitter account
, I will be working on Facebook and will also send out regular communiqués. I am always delighted to hear from our members, whether you are untrained, qualified, primary or secondary care and from the private sector which I feel is equally important as this helps and supports the NHS and offers choice. I am an active RCN representative and steward and will also keep you updated.
I have undertaken voluntary work for many years; I have been a member of the Red Cross for 36 years and have been one of the vice-presidents for Dorset. I work for The Florence Nightingale Foundation, an organisation that provides bursaries for research, travel and leadership, where I am also an Honorary Vice-President. I am also Vice-President of Poole Heart Support Group and been a magistrate in civil and criminal law for over 22 years. So I very much believe in public service, giving back to the community, and I have to say that you gain every bit as much if not more from undertaking voluntary work.
In 2009 I was honoured to receive the OBE for services to nursing and in 2013 was named British Journal of Nursing Nurse of the Year.
It is my intention to drive the cause of nursing to enable us to show how important we are and more importantly to invest in ourselves as so often we are the people who help and support everyone else and do not do anything to support ourselves. We need to redress and change this balance and feel proud of what we do because pride is very important and let us face it nursing is essential to the care received by our patients. I pride myself on being accessible, getting to know people and also to put the fun back in to work. We all know how difficult the work can be, but we do need to smile and enjoy it because it is a long life if we do not enjoy our work.
I am proud and honoured to serve the South West region. I will be in touch many times over the coming year, but wanted to say 'hello' and let you know a little about myself and I hope to get to know you too.
Thank you.