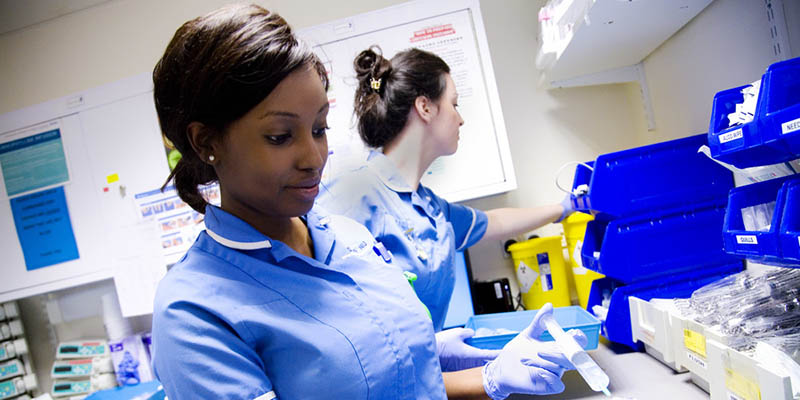 Ironically, they are also less likely to trust in the vaccination programme currently being rolled out throughout the world. Evidence shows that the take-up is much lower than for non-BAME people. The reasons for this should be investigated and addressed as a matter of urgency. There is a lot to be done to redress past wrongs and build trust up with communities who have been discriminated against for too long.

Last summer's report by Public Health England on COVID-19's impact on BAME people reported that ethnicity was related to worse health outcomes and greater likelihood of severe illness as a result of contracting COVID-19 than their white counterparts.

The report statistics exposed culturally embedded racism and discrimination as a root cause affecting health outcomes.

These findings provide us with an opportunity to shine a light onto a darker side of the UK, including our beloved national treasure, the NHS.

In an RCN survey that followed hot on the heels of the PHE report, 43% of black, Asian and minority ethnic RCN members said they felt they had adequate personal protective equipment, compared to 66% of white British nursing staff.

Nursing staff experienced discrimination when it came to the allocation of equipment that could mean the difference between life and death. Regardless of whether this unequal PPE distribution took place consciously or unconsciously, however you choose to explain it, it demonstrates that racism is rife in the system. A shocking revelation for some. No surprise for others.

It is well documented that BAME nursing staff experience a far greater rate of referrals to the Nursing and Midwifery Council, although crucially, once heard at this level, most of these cases are not upheld. Issues at work are more likely to escalate to disciplinary hearings and grievances for BAME nursing staff, especially male staff. People are quicker to criticise, harsher in their judgement, than when dealing with white nursing staff, and all this has negative professional consequences, not to mention the psychological distress any disciplinary HR procedure causes.

Nursing staff from non-white backgrounds who have spent any time trying to climb the career ladder will have noticed an invisible 'glass ceiling' impeding their speed and direction of travel. Skilled and ambitious BAME people are passed over for promotions to roles that are well within their capability all the time. This calls for accountability at all levels. Ensuring, for example, that in an interview panel equality and diversity procedures are applied throughout, and in a meaningful way. BAME staff are no less capable or less ambition than their white counterparts, but a look across most organisations would suggest that is not the case.

A report by the Health Service Journal published in November found that 45% of NHS providers had no very senior managers from a BAME background, and that nationally only 8% of very senior managers were BAME, compared with 19% of the NHS workforce and 15% of the UK population.

Three entire health systems didn't have any BAME managers in the top grade within their NHS providers – including Bristol, where you might expect there to be some, given the city's demographic.

In fact, three of the health systems with the lowest proportion of very senior managers declared as BAME are in the South West. Although in better news, Somerset is one of the systems listed with the highest proportion of representation at this very senior level.

If there is a barrier to leadership at this very senior level, imagine all the barriers that come before anyone can even begin to reach that stage. How does a band five nurse get a foot in the door for a band six post? Who makes the cut for that band seven post? Invariably, the answer is currently far fewer BAME employees than should be the case.

Who gets to decide people's future success and what is their reasoning? What factors come into play in the application and interview process? Why did a higher proportion of BAME nursing staff report less access to life-saving PPE at the height of the first wave? And what can any of us do about it? A first step is to acknowledge it, and to start having difficult conversations about it.

The NHS People Plan recognises that deep-rooted inequalities exist in our society. It states: "The disproportionate impact of COVID-19 on BAME communities and colleagues has shone a light on inequalities and created a catalyst for change. NHS leaders have stepped up, role modelling compassionate, inclusive leadership through open and honest conversations with teams, creating calls to action for boards, and strengthening the role of BAME staff networks in decision-making". This is long overdue, and we look forward to seeing the evidence of successful implementation.

The RCN has been working with institutions across the country to deliver our Cultural Ambassador Programme, providing bespoke training to individuals in institutions who want to make a difference to their workforce's race equality. And we have made a real difference. Black Country Healthcare Foundation Trust won the People and Organisational Development Initiative of the Year award for its work creating 'an ambassador role to avoid any cultural bias and discrimination towards staff at work increasing fairness in grievance processes and boosting staff confidence'. It successfully reduced the number of disciplinary investigations from 42 to 28 in its first year.

In the South West, we are excited about working with a trust in the region on the programme.

In a healthy workplace, all staff need to feel safe and empowered, realise the impact of their behaviour on their colleagues, and act according to the values enshrined in the NHS constitution, which should apply equally across all other health and care settings. These values are: working together for patients; respect and dignity; commitment to quality of care; compassion; improving lives; and everyone counts. The NHS promises to 'maximise [its] resources for the benefit of the whole community, and make sure nobody is excluded, discriminated against or left behind'.

It's high time that lofty ideal becomes a solid reality.