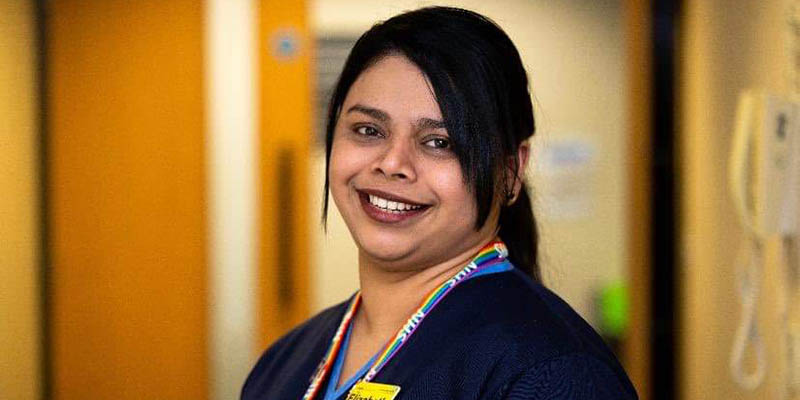 Being involved in the 'save our souls' campaign as a schoolkid enabled me to think about ways of helping others, and I realized health care was the sector that I should enter.

My interest rose even higher when I realized that the opportunities this profession brings into one's life enable a person to be the best human being.

The best thing about nursing is that you create a unique bond with people you meet - your patients and colleagues, and being able to get to know somebody and support them when they are at their most vulnerable is such a gratifying feeling. This profession exposes you to wider opportunities and career growth and you can feel that there is something new out there each day if you want to grow personally and professionally. My decision to come to UK and join this amazing NHS trust has literally given wings to all my dreams.

I have never regretted my decision and my love of learning and sharing my knowledge has taken me to my current position which I truly enjoy.

Working as a nurse and working as a professional education facilitator with students and colleagues, it is all about human connections to me. I am a very positive people person and hence to motivate someone even in the slightest possible way always gives me a sense of feeling that my life has a purpose.

Being a self-motivated, enthusiastic and hard working person, I believe positivity forms the pillar for your success. I constantly strive to pass my positive energy on to my fellow friends and colleagues who approach me for any kind of support. It is so true that all our dreams can come true if we have the courage to pursue them.

It is my privilege to be a part of the RCN Gloucestershire Branch and to uphold its values. It makes me proud to know that they always stand up for their fellow colleagues, upholding the values of equality, diversity and inclusion. The secret of getting ahead is getting started and it can be achieved only by not limiting yourself.

Live and let live is my motto and without doubt and with all honesty I can say that even to touch another soul with a gentle touch of encouragement and kindness is the essence of my existence. Actually living the moment I love and loving the moment I live.