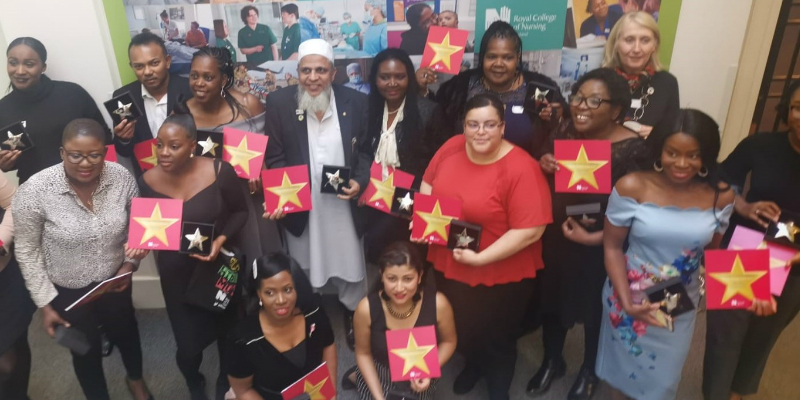 At the event we celebrated the 'Rising Stars' of 2019, that is nursing staff who work with or are from BAME communities and have made an outstanding contribution to health and social care in London.
The nominations were of a really high calibre, so selecting the winners was no easy task for the panel of judges. The Rising Stars were nominated for so many different reasons, but what they all have in common is that they have all made a huge and lasting positive contribution to patient care, or to their places of work and colleagues, or both! The nominations spoke of: innovation, going 'above and beyond', being an 'absolute asset to the team', providing 'professionalism, compassion and great care' and championing patients at local and national levels.
We were delighted to have Ethel Changa, South Region Lead, Chief Nursing Officers' Black and Minority Ethnic Strategic Advisory Group as our keynote speaker. What really stood out was Ethel's emphasis on building a compassionate culture. And she spoke about what inclusive leadership really looks like. Inclusion must not just be a tick-box exercise. True inclusion across race, age, ethnicity and gender will allow leaders to come up with the most innovative strategies as everyone sitting at the table will challenge each other on their blind spots.
We also heard inspirational words from Lorraine Sunduza, Chief Nurse at East London NHS Foundation Trust who chaired the afternoon session, and from frontline nursing staff about their journeys, the challenges they faced and opportunities they forged for themselves.
Mentorship was a key theme running throughout the day. Many of the speakers highlighted the importance of networking, or having those conversations, and I am so pleased that people were doing just that. Attendees offered to mentor others and I'm excited to see where this mentorship will lead.
It was a fantastic day from start to finish and we are already looking forward to next year's event. And I know Black History Month and this event are just one month and one day during the year, but inclusion, challenging discrimination and celebrating diversity should be part of our everyday. We are in the process of organising our next Inclusion Solution event and will be announcing the date soon, so watch this space.
I'd like to offer another huge congratulations to all our Rising Stars of 2019
Ann-Marie Richardson - King's College Hospital NHS Foundation Trust
Antoinette Fisher - North Middlesex University Hospital NHS Trust
Asheika Rhoden - St George's University Hospitals NHS Foundation Trust
Bobby Mahabir - Central and North West London NHS Foundation Trust
Catherine Sekwalor- NHS City and Hackney CCG
Chitra Sanjel - Chelsea and Westminster NHS Foundation Trust
Danisha Letang-Reid - Imperial College Healthcare NHS Trust
Helen Opara - Barking, Havering and Redbridge University Hospitals NHS Trust
Jennifer Emodi - Imperial College Healthcare NHS Trust
Lawrence Kargobai - Oxleas NHS Foundation Trust
Margaret Fontallio - Central and North West London NHS Foundation Trust
Marsha Green -Croydon Health Services NHS Trust
Melanie Hayes -NHS City and Hackney CCG
Nelaila Turay - Central and North West London NHS Foundation Trust
Patience Pounds -Imperial College Healthcare NHS Trust
Prasuna Kadel -London North West University Healthcare NHS Trust
Salima Garnvwa - Central and North West London NHS Foundation Trust
Sandra Frimpong - Whittington Health NHS Trust
Wasim Ahmad-Khan - Nursing Everyday