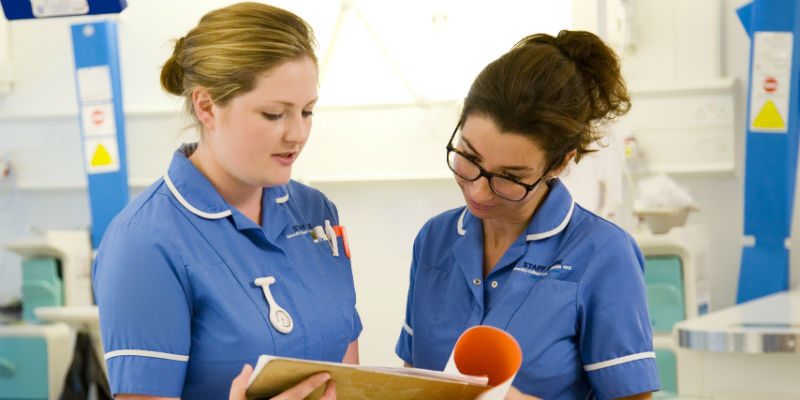 In England, there is no law related to nurse staffing. In simple terms that means there is no cast-iron guarantee that there will be enough nurses to keep people safe, and that there is no mechanism for holding politicians responsible when there isn't.
The RCN believes that this needs to change. Wales and Scotland have already proved that it is possible; now it's time to start the fight in England, and for us, in London.
As well as a proper legal responsibility for ensuring there are enough nurses, our campaign is also going to demand more investment in nurse education, a clear plan that reflects 21st century demands for care, and a workforce strategy that paints a clear vision of how the shortage of nurses is going to be addressed in England.
In London we know all too well that decisions by government to cut CPD funding, to cut the bursary and the lack of clarity around Brexit have all led to falling numbers of staff in post and falling numbers of students entering our profession. We have almost 10,000 vacancies now in London and currently no one person is responsible for addressing that.
We also know what the human cost of the 10,000 vacancies can be. Cancer services moved and disrupted because of a lack of specialist nurses, CQC reports citing nursing shortages, and instances where patients are dying in preventable circumstances.
So with the stakes as high as ever, and a change in the law so desperately needed, we need you to tell your stories. It's vital that we speak out about our own experiences of unsafe staffing. The times you didn't take a break, or stop for a drink of water. The times you felt unable to deliver the care that you wanted for your patients, and the emotional strain understaffing places on you and your colleagues.
So my ask of you is that you don't wait for the RCN to tell you what to say. Begin having those conversations with your friends, your family and your colleagues. Speak to five different people about how the nursing shortages are affecting you and the services you work in. If we can build awareness of the impact of unsafe staffing, and develop supportive relationships with those inside and outside of the profession, we can ensure that politicians have no choice but to listen.
You may have seen that we delivered a letter to Matt Hancock just last week with thousands of signatures on it - telling him we need to talk. We need politicians to understand that only real change will help to address the 40,000 vacancies in England.
Later this month a number of members will attend a meeting with MPs in the Houses of Parliament to tell their stories. We want to speak with as many MPs as possible so we are asking members, their family and friends to write to their MP to come along using this pre-filled email template.
You will hear more from us at RCN London about how we are building and promoting the campaign. From days of action across the capital, to providing a range of campaigning materials, we will be on the frontline with you.
But for now, let's get the conversations started.